Tel Aviv Researchers Prove Potential Melanoma Nanovaccine in Mice
The nanovaccine finds its way to the body's immune cells and stimulates them to attack the melanoma cells, researcher explains
Researchers from Tel Aviv University (TAU) have partnered with researchers from the University of Lisbon to advance another step in the road to a better cure for melanoma, the most aggressive type of skin cancer. To do so, the researchers combined checkpoint inhibitor therapy, a form of cancer immunotherapy that targets key immune system regulators in order to halt or stimulate certain actions, with cancer nanovaccines to show "remarkable tumor remission and prolonged survival" in mice.

The team was led by Ronit Satchi-Fainaro, who heads the Cancer Research and Nanomedicine Laboratory at TAU, and Helena F. Florindo, assistant professor at the University of Lisbon, who is currently on sabbatical at TAU. The team published their results, titled "Immunization with mannosylated nanovaccines and inhibition of the immune-suppressing microenvironment sensitizes melanoma to immune checkpoint modulators," on Monday in the Nature Nanotechnology journal.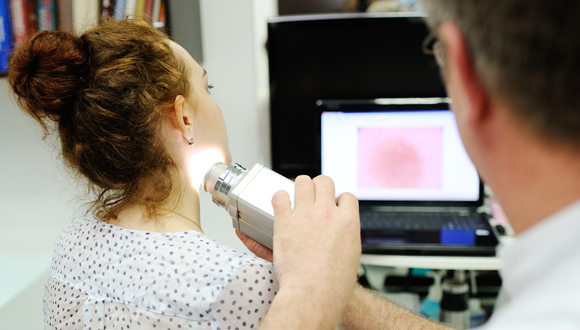 melanoma (illustration). Photo: Shutterstock
In an interview with Israeli news website Ynet, Satchi-Fainaro likened the nano-particle injected into the mice to a shirt given to a police dog to sniff and thus track the perpetrator. The particle finds its way to the body's T-cells—a type of immune cell—and stimulates them to attack the melanoma cells, she explained.
The team's study, though still a long way from being a viable treatment in humans, provides a completely different approach to treating melanoma even in its later stages, Satchi-Fainaro told Ynet.
According to the American Cancer Society, the five-year survival rate for stage I and II melanoma, that is, Melanoma that has not spread beyond its starting point on the skin, is 98%. That rate falls to 64% for stage III melanoma, which has spread beyond its starting point to nearby areas or lymph nodes. For melanoma that has spread to organs such as lungs, liver, or skin on other parts of the body—stage IV—the five-year survival rate stands at 23%.
Satchi-Fainaro estimates that clinical trials will take five to ten years, but told Ynet she and the team believe their method could be used to treat other types of cancer as well.