Despite Losses, Teva Pays Employee Bonuses for 2018
Though Teva ended 2018 with a net loss of over $2.45 billion, the company awarded its employees with bonuses worth $390 million for the fiscal year's results
The continuous dive of Teva Pharmaceutical Industries Ltd. on NYSE may be worrying shareholders, but for the employees of the money-crunched drugmaker, the first six months of 2019 are ending on a much sweeter financial note.

Teva cancelled its annual bonus scheme in 2017 as part of the company's global reorganization strategy. In February 2018, the company announced a new scheme, one that is based on both personal and company performance. While Teva stated the bonus targets were the same for all employees including management, the company did not reveal what those targets were, nor the split between senior management and the rest of the workers.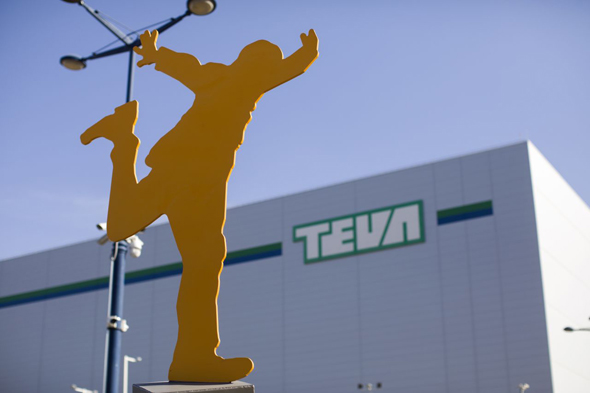 Teva, Israel. Photo: EPA
Though Teva ended 2018 with a net loss of $2.459 billion, or $2.35 per share, the company awarded its employees with bonuses worth $390 million for the fiscal year's results, according to its second quarter reports for 2019. Of the sum, $75 million were paid in the second quarter, which Teva ended with a net loss of $689 million. The rest, $315 million, was already paid in the first quarter. To calculate its bonuses, however, Teva relies on its non-GAAP results. In non-GAAP terms, Teva ended 2018 with an income of $2.98 billion, or earnings per share (EPS) of $2.92.
In February 2018, Calcalist revealed the internal targets Teva set for its employees. Non-GAAP EPS and free cash flow (FCF) needed to reach at least 85% of Teva's stated target for 2018, which was an EPS of at least $2.5 and FCF of $2.8 billion, for Teva to pay the bonus. Teva's non-GAAP FCF for 2018 stood at $3.4 billion.
Handing out bonuses did not improve Teva's already dire financial situation: Teva closed the second quarter with a negative cash flow of $227 million, compared to $162 million generated from operating activities in the second quarter of 2018. For the first six months of 2019, Teva reported a GAAP net loss of $794 million compared to a net income of $814 million in the first six months of 2018.
In the earnings call last week, retiring chief financial officer Michael McClellan referred to the net cash received for capital investments and beneficial interest collected in exchange for securitized trade receivables, which stood at only $168 million at the end of the second quarter of 2019, compared to $360 million in the first quarter and $559 million in the second quarter of 2018. The company expects the cash flow to significantly improve in the second half of 2019, he said, partly due to the fact that no bonuses will be paid.
Teva's decision to cancel employee bonuses for 2017—a year the company ended with a colossus GAAP loss of $16.3 billion—drew a lawsuit from company employees. The Tel Aviv labor court is set to discuss the matter in November.