Israel to Exempt South Korean Cars, Baths, Soy Sauce From Customs Duty
Israel and South Korea have completed their negotiations on a free trade agreement that would exempt imports and exports of certain types of products from tariff
Israel and South Korea have completed their negotiations on a free trade agreement between the two countries, Israel's Ministry of Economy and Industry announced Wednesday.

Not yet signed, the agreement includes customs duty exemptions for imports and exports of certain types of products between the countries. Among the South Korean products to be exempt are cars, baths and sinks, refrigerators and freezers, video game consoles, and soy sauce. Exported Israeli goods to be exempt in South Korea include wine, fertilizers, skin products, and patient monitoring systems.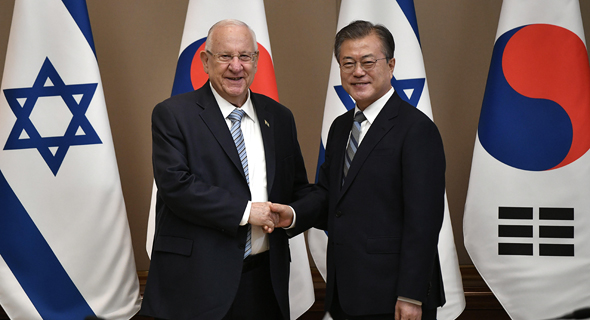 Israeli President Rivlin (left) and South Korean President Moon Jae-in. Photo: EPA

In 2018, trade between Israel and South Korea amounted to approximately $2.5 billion, an increase of almost 15% compared to the year before, according to the ministry's statement.

Last month, during a state visit to South Korea, Israeli President Reuven Rivlin voiced his support of a free trade agreement between the two countries.