Israeli President Calls for Free Trade Agreement During Official Visit to South Korea
In 2018, trade between South Korea and Israel amounted to nearly $735 million, a 20% year-to-year increase
Israeli President Reuven Rivlin is currently visiting South Korea and is calling for a free trade agreement between the two countries. In a statement released Monday by the Israeli Government Press Office, President Rivlin said his "visit has one goal: to build a new bridge between Jerusalem and Seoul" and that the Israeli economy and the South Korean economy are not competing against each other, but rather are complementary economies.

For daily updates, subscribe to our newsletter by clicking here.

Accompanying Rivlin to South Korea is a delegation of Israeli businesspeople and entrepreneurs aiming to promote trade relations between the two countries. In 2018, trade between South Korea and Israel amounted to NIS 2.6 billion (approximately $734.8 million), a 20% year-to-year increase, according to the Israeli Ministry of Foreign Affairs. Some 45,000 South Korean tourists visited Israel in 2018.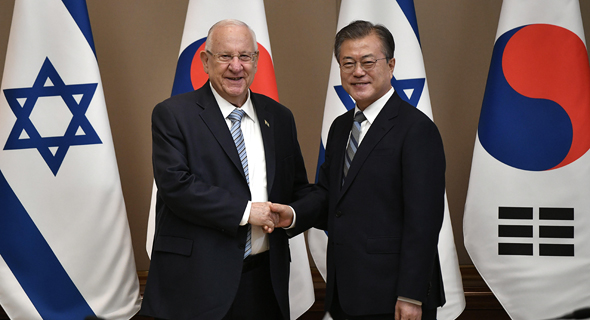 Israeli President Reuven Rivlin and South Korean President Moon Jae-in. Photo: API

During his state visit, President Rivlin met with South Korean President Moon Jae-in, and the two signed memorandums of understanding in the fields of energy and education.

South Korean culture and music have also gained popularity in Israel recently, with South Korean-Pop sensation BTS was the Twitter account that gained the most Israeli followers in 2018, according to data released by Twitter in December.

Moon Jae-in said in a statement that he believes "that we can significantly advance bilateral ties and that if we succeed in concluding the free trade agreement soon, our economic cooperation will expand and be reflected in greater investment."

estimated $155 million. Last year, Hyundai inaugurated its Israeli innovation hub. In March, Yongin, South Korea-headquartered biomedical company Bioleaders Corp. agreed to commit $10 million towards a company being spun off of Yeda Research and Development, The Weizmann Institute of Science's technology transfer arm.

The two countries also work together on security issues. In November, The South Korean arms procurement agency, DAPA, announced that ELTA Systems Ltd., a subsidiary of Israel Aerospace Industries Ltd. (IAI), won a bid in a tender to supply two long-range warning systems to the Asian nation, in a contract worth an estimated $292 million. In 2009, South Korea acquired two radar systems from Israel for $280 million.