Local Market Politics Make Israeli Retailers Hesitant to Join Amazon, Experts Say
On Wednesday, Amazon notified Israeli retailers on its platform that the "ships locally" filter will soon be available for Israel, enabling consumers with an Israeli IP to look for products with local service and a fast shipping offer in-country
Local politics are causing some Israeli retailers to delay joining Amazon's Israeli service, according to local e-commerce experts.

On Wednesday, Amazon notified Israeli retailers on its platform that the "ships locally" filter will soon be available for Israel, enabling consumers with an Israeli IP to look for products with local service and a fast shipping offer in-country.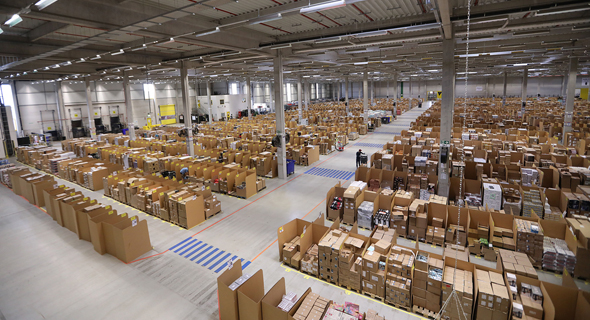 An Amazon warehouse. Photo: Bloomberg
The email sent Wednesday is sort of a "last call" for those who have not yet joined the service, expected to be launched mid-September, according to Eli Ventura, head of commerce at Electra Consumer Products Ltd., who also heads its newly established division Weforce, intended to help retailers set up Amazon shops. A few dozen retailers joined via Weforce, he said, but taking into account other players he estimates over 100 retailers are set to start selling on Amazon in September.
Odelia Orbach, co-CEO of eCommunity, which helps sellers set up shops on e-commerce websites like Amazon and eBay, said the company had been approached by hundreds of retailers in the last few months, and that a few dozen are already in the process of joining Amazon's local service.
"Ever since Amazon approached businesses and made its pitch, the whole market has been bubbling from its upcoming entrance to Israel," Orbach said. "In the end, everyone will be there. There's no industry we haven't heard from. We're talking companies of all sizes—it is a result of the dwindling profits of malls and the understanding that if consumers are no longer coming to malls than businesses need to reach them in other ways."
Currently, despite the buzz Amazon has generated, small businesses are somewhat hesitant to join. Israel is a small country with a lot of local politics, Ventura explained, adding that no one wants to anger the big players like local mall giant Azrieli Group, which also operates e-commerce website Azrieli.com, or e-commerce website Terminal X, owned by Fox Group. "That is why everyone is still on the fence, waiting. But it won't last long, and everyone will join in upcoming months."
The same sentiment is echoed by Moti Fridman, founder and CEO of Minus 417 Cosmetics Research Ltd., who has been selling on Amazon globally for a few years. The large retailers are worried that selling on Amazon will harm their brick and mortar sales, and the same is true for those who already have independent e-commerce activities, he said. "But it is not rational, and just like Terminal X has Israeli sellers who also sell elsewhere without experiencing negative repercussions, the same will be true for Amazon."
In the U.S., Amazon is like Google, and the large players in Israel will end up joining Amazon as well out of an understanding that Amazon will become the elementary shopping arena wherever it exists, Fridman said. "Every company must use a platform that can increase its exposure. It is like entering a mall instead of walking down the street."
Unlike the mall, however, where people are inevitably made aware of most of the brands on location just by wandering around, sellers that operate on Amazon must create that exposure inorganically. The main beneficiaries from that need are companies that make retailer pages, like eCommunity, which collects a set-up fee and a 10% commission off every sale, or Weforce, which collects a 15% sale commission and a monthly membership fee of NIS 99 to NIS 499 (around $28-$141.7) for various services it provides. Add the 15% commission Amazon itself collects off each sale, and the expenses mount.
Selling on Amazon requires expertise that can be learned, but it takes time, Ventura explained. "Opening a retailer page is complex and promoting it is a daily job," he said. Regarding the commissions Amazon and companies like Weforce collect, Ventura said they are still lower than the expenses a brick and mortar store entails.
Selling on Amazon will also help retailers safeguard themselves against parallel import, as the e-commerce giant has learned the benefits of working with manufacturers and suppliers and thus offers them protection, Fridman said.
While selling on Amazon's platform offers many benefits, such as a much wider exposure, it also has its downsides. Customer complaints, for example, can lower a retailer's rating, leading to potential customers being exposed to negative reviews. Those who consider joining should, therefore, ensure they meet all of Amazon's requirements, such as real-time customer service, paperwork that proves all products sold are up to standard, and an ability to track sales and stock.
Fridman thinks that Amazon's call on Israeli retailers is, to a degree, groundworks the company is doing before launching full operations in Israel. "They likely have a solution that they are currently not discussing, and at this point, they are recruiting retailers as global retailers instead of working with distributors and parallel importers."