Less Young Israelis Can Afford to Buy Their Own Apartments, Report Says
Data published recently by Israel's Central Bureau of Statistics paints a troubling picture: less and less young Israelis are able to buy an apartment, especially if they are married and have young children
Data published recently by Israel's Central Bureau of Statistics paints a troubling picture: less and less young Israelis are able to buy an apartment, especially if they are married and have young children.

According to the bureau, in 2008, 74.3% of couples that had at least one young child (under 5) owned an apartment. By 2017, their number has fallen to 64.2%, proving that a decade of climbing real estate prices took its toll. These statistics do not differentiate between couples who live in the apartment they own and those who lease it out.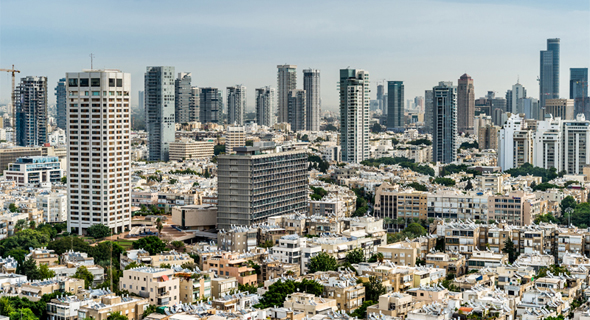 Tel Aviv. Photo: Shutterstock
When the data is considered only according to age groups, without taking the existence of children into consideration, the percentage of people aged 20-29 who lived in an apartment they own fell from 63.9% to 55.3% between 2005 and 2015. For people in their thirties, that percentage fell from 78.1% to 71.6% during the same time period.
The data also revealed that rising prices hit young married couples harder than they hit singles and divorcees. The percentage of married couples aged 20-29 who lived in their own apartment dropped from 56.3% in 2005 to 39.1% in 2015. Among divorcees, the numbers dropped from 39% to 32.6%.
For married couples aged 30-39, the number of couples who lived in an apartment they owned dropped from 72.1% in 2005 to 60.3% in 2015. Among divorcees of the same age group, it hardly changed, rising slightly from 43.4% to 43.5%.
In 2008, the number of households who leased out an apartment they owned while living in a rental apartment stood at 23.6%. By 2017, that number dropped to 17.7%.
In February, the Bank of Israel published a study that at first glance seems to contradict the bureau's findings. According to the bank, the number of those buying a first apartment among people aged 25-35 who are employed rose between 2007 and 2016, across all socio-economic classes. The bank's research unit found that the number of first-time apartment buyers among the age group rose from 2% to 4%. This was more apparent for higher economic classes. The authors of the study concluded that despite real estate prices rising faster than the disposable income of households in the past decade, results indicate an increase in the number of young people buying their first apartment.
The contradiction seen in the data is the result of the different segmentation the bank and the bureau employed. While the bank stated that the increase in real estate prices did not overall impair the probability of young people buying an apartment, the bureau's data shows that in actuality, there has been a decrease in the percentage of young people, and particularly young parents, that do so. While the bank did examine the annual number of apartment buyers among young people, it did not differentiate according to familial status.