To Battle Shortages, Israeli Health Ministry to Confiscate Medical Cannabis From Growers
The upheaval of the new regulation, set to come into force on September 1, has resulted in market shortages. Ministry officials have previously accused growers of deliberately withholding cannabis in protest
The Israeli Ministry of Health is escalating its regulatory enforcement efforts against medical cannabis growers and manufacturers, according to several people who spoke to Calcalist on condition of anonymity. New regulations mandate that medical cannabis products must be sold via pharmacies.

The new regulation, which will come into full force on September 1, has thrown the local medical cannabis industry into disarray, raising prices and causing supply shortages. Until September, some patients still receive their medication directly from growers, though more and more were forced to switch to pharmacies. Some people at the ministry have previously accused growers—who are unhappy about the profit cut forced on them as a result of the new middlemen—of deliberately withholding product to create artificial shortages in the pharmacies, thus fanning anger and resentment against the new regulation.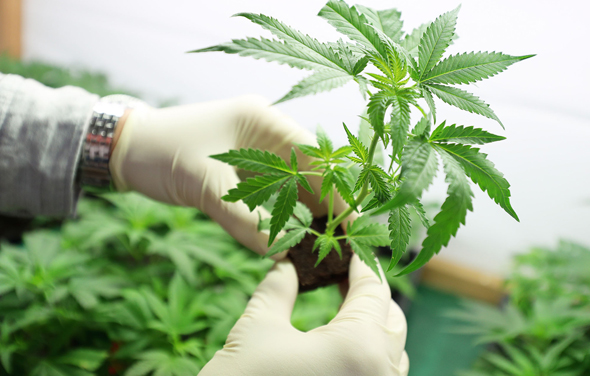 Medical cannabis. Photo: Shutterstock
During a meeting held Monday with players from the local industry, the ministry notified companies that it will start seizing all products not marked for specific patients, according to several people who took part in the meeting and spoke to Calcalist on condition of anonymity. The ministry said it will release the seized products only after a recipient is designated.
The ministry also reiterated its position that export of medical cannabis from Israel will not be approved until local supply issues are dealt with, the people said. The government approved the long-awaited export in January, but it still requires a final green light from the ministry. An interministerial committee is set to convene in upcoming weeks to define the export regulations, which will likely be modeled after the current regulation for narcotic pharmaceutical manufacturing, the people added.
The ministry will also enable medical cannabis suppliers to sell products that do not meet the new standard at pharmacies as long as they are appropriately marked, leaving consumers to shoulder the pharmacies' commission cost, the people said. The move is intended to help pharmacies deal with the current shortages.
There is enough supply in the market but it has yet to reach pharmacies, a spokesperson for the ministry told Calcalist, adding that the ministry has mandated that all existing supply that is not intended for specific patients will be moved to pharmacies. Companies will need to comply with the GMP (Good Manufacturing Practices) standard as of September 1, but under certain circumstances, the sale of non-GMP compliant produce that has been manufactured in a GMP-compliant facility will be approved, the spokesperson said.
The spokesperson confirmed that all stored cannabis will be seized, and released directly to pharmacies or specific patients only following approval by the ministry, "to make sure no growers are hoarding cannabis."