In Depth
Women Say Faulty Glucometers Made Their Sweet Pregnancy Bitter
6% of pregnant women in Israel are diagnosed with gestational diabetes every year, and have to depend on blood glucose meters for the health of themselves and their babies. But what if the glucometer prescribed to many of them gave inaccurate readings?
Gestational diabetes is one of the top concerns of pregnant women today, according to Yariv Yogev, director of the obstetrics and gynecology department at Lis Maternity and Women's Hospital at the Tel Aviv Sourasky Medical Center (Ichilov Hospital).

When a woman is diagnosed, she is presented with the risks: stillbirth, an extremely large baby that might experience shoulder dystocia if he or she gets caught on the mother's pubic bone, a diabetic child with low IQ. "You feel completely healthy, with no obvious diabetic signs like a dry mouth or excessive thirst," Yogev said in a recent interview with Calcalist. "But now you need to start a strict diet regime and prick yourself several times a day for the sake of your baby's health."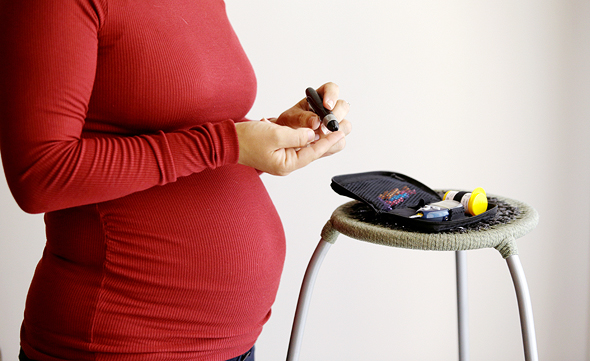 A pregnant woman measuring her blood glucose level. Photo: Amit Sha'al

In late 2017, an Israeli Facebook group called "Sweet Pregnancy—Gestational Diabetes," which currently has over 6,500 members, saw a growing number of posts with a similar warning: the blood glucose meter prescribed by one of Israel's four health maintenance organizations (HMO), Maccabi Health Services, was faulty. The device, CareSensN, manufactured by South Korea-based i-SENS Inc., gave inaccurately high readings, sometimes more than 20% higher than the competing blood glucose meter marketed in Israel, FreeStyle Lite, the posts said.

Some group members wrote their physicians ordered them to switch their CareSensN device for another, with no explanation. Others said the pharmacist that processed their CareSensN prescription looked at it and gave them the FreeStyle instead. Some of the members, alarmed by the posts, tried to exchange their CareSensN meters and were told that Maccabi only subsidized a new meter once every three years.

Gestational Diabetes Mellitus, or GDM, a type of diabetes that appears during pregnancy in previously healthy women, has become a real epidemic in Israel in the past decade. According to data collected by the Israeli Ministry of Health, 6% of pregnant women in Israel are diagnosed with GDM every year. A study published last month in the Journal of Women's Health, conducted by Israeli HMO Clalit Health Services, Soroka University Medical Center, and Ben-Gurion University of the Negev, which encompassed 100,000 women between 2005 and 2016, found that the number of pregnant women with abnormal blood glucose levels nearly doubled in that period.

As GDM pregnancies are considered high-risk pregnancies in Israel, the first step post diagnosis, even before meeting with a specialist, is referring the woman to a dietician and issuing her a prescription for a blood glucose meter. Often, it is the family doctor or even a nurse that writes the prescription, and the specialists will not know what device their patients are using unless they ask of their own volition.

Diabetes is first diagnosed in a lab using a glucose tolerance test during the second trimester—weeks 24 to 28. Blood glucose meters do not claim to be as accurate as lab tests, and the acceptable standard deviation is usually 10%-15%. But after the initial diagnosis, most women monitor their daily sugar levels almost exclusively using glucometers, with healthy levels being less than 95 mg/dL after a night's fast and less than 140 mg/dL one hour after eating. Here, a 20% deviation could be the tipping point for getting on medication.

For this article, Calcalist spoke with around 20 women who developed GDM over the past five years and used CareSensN to monitor their blood glucose. Some were "saved" a second before getting on medication thanks to an attentive healthcare staff member or the discussion on the above mentioned Facebook group. Others were prescribed medication based on their meter readings, a treatment that in hindsight was, perhaps, unnecessary, and saw their doses lowered once they made a switch to a different meter.

Eleanor Igal, a parental counselor and one of the managers of Sweet Pregnancy, went through two GDM pregnancies. During her first, she was prescribed insulin after just a week of monitoring with CareSensN. A few days later, when she tested her glucose levels an hour after eating an apple, the meter showed 180 mg/dL. "It was absurd and I was so alarmed," she said in an interview.

"Immediately, I injected three units of insulin. That is a lot and really dangerous, but no one instructed me how, how much, or why I should use it. I do not know how nothing happened to me."

Two weeks later, her doctor instructed her to start using FreeStyle instead, saying it was easier to download data from the FreeStyle device. Only later did she realize it was an attempt to avoid being held responsible if something went wrong. "I am lucky I switched or they'd have probably upped my doses." Since then Igal makes sure to benchmark the accuracy of her FreeStyle against lab tests. The margin is only a few units, she said.

Tova from Jerusalem was warned about CareSensN by her specialist, after having used the device for a few weeks before their first meeting. She adhered to a strict diet, and yet each time she measured her levels were borderline or worse. "You cut more and more. You read exercise helps stabilise the levels, so after eating anything you take a walk—even in the middle of work—and you only eat at home to avoid temptation outside, and you only take the stairs." Worrying about her baby meant she would do anything and everything, Tova said, but it was a constant, never-ending battle from the moment she opened her eyes.

Then she was contacted by a high-risk pregnancy clinic, and the first question she was asked was about the type of device she used. The doctor asked specifically, the staffer told her, since he knew Maccabi prescribed a faulty device. When Tova answered she was using CareSensN, an urgent appointment was made, and she was told to bring her device with her for comparison purposes. "I was really stunned by the results," she said. "With CaresensN my level was 136 mg/dL, but the lab equipment showed 30 units less."

A urine test showed Tova had too much ketones in her urine, often an indication of starvation, in her case because she cut out almost all carbs. "I showed the doctor my results, I said 'look, this is the device they gave me at Maccabi.' He didn't even look at it, just said it was common knowledge that the device was inaccurate, especially for pregnant women. He told me to buy a new device immediately and start measuring from scratch."

Michal Levin Ben Yosef from Haifa used CareSensN during her first pregnancy, and maintained stable levels strictly with a diet. This year, pregnant for the second time, she started monitoring her glucose levels from the beginning and immediately felt something was wrong. "The levels were a bit higher, which did not make sense to me." She then saw several posts about CareSensN on the Facebook group, and decided to try a different device.

Using FreeStyle, the measurements were 15% lower from the get-go. "If the CareSensN showed me fasting levels of 105 mg/dL, with FreeStyle it was 91," she said. "It drove me crazy that someone could be overmedicated because of it, because I personally would have certainly been prescribed insulin had I waited to start measuring during a more advanced week."

Gali had GDM during her first pregnancy, and was therefore automatically diagnosed at the beginning of her second pregnancy, in late 2016. During her first pregnancy she used FreeStyle and also managed to go through it with just a change of diet. But during her second pregnancy she used CareSensN and kept seeing high blood glucose levels no matter what she did. Her doctor started her on very low levels of insulin on week 17, and as the pregnancy progressed, so did her levels—and her doses.

The turning point was when she experienced hypoglycemia, which is dangerously low blood sugar levels. "We went out to eat at a restaurant and I started feeling really unwell—confused, dizzy, sweaty. I realized I was hypo, but I measured just before and the CareSensN showed 80 mg/dL, which is normal." Her hypoglycemia might have been caused by injecting higher than needed doses of insulin based on an inaccurate reading.

At this point, Gali started to suspect that maybe the device was at fault and so started measuring with her old FreeStyle as well. There was a difference of over 20% sometimes, she said. While the CareSensN showed a result that meant she would have to up her doses, the FreeStyle showed excellent results. She started gradually lowering her doses, and by the end of her pregnancy she was down to only 18-20 insulin units a day. Her obstetrician was not alarmed by the disparity and just said the CareSensN device is sometimes problematic and recommended Gali switch to FreeStyle. She, too, made sure to benchmark it against lab tests from that moment on.

Even two and a half years later, Gali is still furious, and not just because of the overmedication she was forced to endure. Things that undermine a woman's autonomy, like the impact the need to inject every day at a specific set hour will have on her life, or the pressure to have an early delivery or a c-section due to insulin-related complications, are often ignored or brushed aside by the medical establishment, she said.

Gali underwent induced labor, which made for a very difficult delivery. She spent three days in the delivery room, connected to a monitor and unable to move freely. She could have waited another week, she said, but the doctors saw she not only had GDM but was also on insulin, and pressed for induced labor. Her daughter was not large, only 3,200 grams. The doctors put the pressure on due to her measured levels, but those levels were the result of faulty devices, she said.

Most doctors consider medication a one-way ticket and would advise against lowering insulin doses mid-pregnancy. Daphna from Tel Aviv received the go-ahead from her doctor only after she discovered the discrepancies in the CareSensN measurements.

"I started with 12 units of insulin and it kept going up. My doctor told me there was nothing to it and that as the weeks progress insulin resistance increases. So I upped the dose and it still did not work. I started getting dizzy before meals." At some point, she started thinking the problem was with the device, and brought it along to a blood test. The lab test showed 80 mg/dL, while the CareSensN showed around 105 mg/dL, she said. "I wanted to kill someone, but at the same time I was happy because I was right. I had a friend who just had a baby after a GDM pregnancy and she gave me her FreeStyle. Suddenly all my results were balanced."

When Daphna told her doctor about what she discovered, he hemmed and hawed. Daphna told him that her blood glucose drops too low and she is starting to feel weak and informed him she was lowering her doses.

The CareSensN device, it should be noted, meets the 2013 ISO standards for blood glucose meter accuracy, has received approval from the U.S. Food and Drug Administration (FDA), and has also been approved by the Israeli Ministry of Health. Most Maccabi clinics do not supply it to pregnant women anymore, preferring the FreeStyle Optium, but it is not a directive and certainly not a recall. Calcalist knows of two women who were prescribed CareSensN in just the past two months—one of them a Maccabi nurse that said, somewhat apprehensively, that the device is upping her measurements.

Blood glucose meters can have a disparity, usually of no more than 10-20 mg/dL, according to a senior diabetes specialist who spoke to Calcalist on condition of anonymity. But for pregnant women, a difference of a few milligrams could result in different treatment decisions, she said. "I don't make medical decisions based on a few measurements by CareSensN, and when I see a pregnant woman using it I switch her to a different device. I have been involved in validating glucometers since they first appeared on the market, so I know CareSensN and have not been impressed by its performance."

Maccabi's choice of CareSensN was a financial one, she said. "It is a very large HMO with a relatively young population, quite a lot of pregnant women. So it did the math and looked for a technology that met all the standards and made the most attractive offer."

Israel is not the first country where the choice of the cheaper CareSensN devices caused concerns. In 2013, New Zealandic website Stuff reported that diabetics in the country were outraged at their quality, just a few months after the country's pharmaceutical management agency cut funding for all other devices to save money. Users dubbed them "CrapSense." In 2015, there was another push for a review of their use in the country.

Also in 2015, the U.S. National Center for Biotechnology Information (NCBI) published a study of the CareSens glucometers in a hospital setting. The authors said they had found "significant differences between the readings obtained using the CareSens glucose meters and those from the central laboratory analyser," mainly as a result of overestimation of blood glucose values. "We observed ≥0.8 mmol/L differences between glucose meter and autoanalyser concentrations in 35% of hypoglycaemic samples, and these differences are not acceptable in hospitalized patients," they further added, concluding that the study "demonstrated that careSens is not sufficiently accurate by health care professionals in all nursing units including the intensive care unit."

Another article, published in October by the Diabetes Care journal, which is under the American Diabetes Association, stressed the importance of blood glucose monitoring for hyperglycemia management during pregnancy. Of fundamental importance, the authors said, is correct measurements of maternal hematocrit levels. The CareSens device was found (like many other glucometers) to have a hematocrit range of 20-60, relatively narrow. The FreeStyle Light has a range of 15-65, for example.

It should be mentioned that the new CareSens model now sold in Israeli pharmacies does have a hematocrit range of 15-65, and that Maccabi's public tender for glucometers, opened earlier this year, demands a range of 15-65. However, many women still own the older model, and without a clear directive from Maccabi or a recall they may continue using it for future pregnancies.

Continued negligence is a grey area, particularly in the medical system, and that is even more true for a large organization like Maccabi, which had 2,324,000 members as of October. Repeated refusal by its practitioners to discuss the negative reports about CareSensN is not as surprising as it could be.

According to several people familiar with the matter who spoke to Calcalist on condition of anonymity, senior physician Uriel Elchalal, who previously headed a Maccabi high-risk pregnancy clinic in Jerusalem, alerted the organization several times regarding CareSens' faulty performance but was ignored.

Yaakov Segal, head of the gynecology department at Maccabi, is responsible for 40,000 pregnant women a year, of which 2,400 are diagnosed with GDM. In an interview, he said that he is aware of the problem but it was not as severe as it seemed. "There was something once, a problem that lasted a short while, which I think had to do more with a financial struggle between the distributors of the devices," he said. "Bottom line, medically speaking, we saw no ill effects. Furthermore, as far as I'm aware, today almost all patients are prescribed FreeStyle."

When asked whether Maccabi tested the device, he replied "I can't say that for sure, I think at the time our lab technicians tested it but we didn't find any problem that would affect our patients. I was not involved, so, it probably wasn't a big issue. Anyway, if indeed there was a problem, it was for a very short time and has since been resolved."

Glucometers are approved in Israel after they have been proven to meet the standards and been actively distributed in OECD countries like the U.S. and European Union members, a spokesperson for the health ministry told Calcalist. Licensed distributors are required to notify the ministry of any irregular incident, as are Israel's healthcare organizations, the spokesperson added.

According to the ISO standard, a glucometer is considered accurate if the glucose levels it displays do not deviate more than 15% from the lab results, a spokesperson for CareSensN's manufacturer i-SENS told Calcalist. That means that different devices, even those made by the same manufacturer, can show a disparity of up to 30%, but that does not mean they are showing false results, the spokesperson said, adding that it would be inappropriate to make conclusions regarding the device's accuracy without comparing it against lab results. Any concern that has to do with the product is being taken care of by the company's local representation. Maccabi's patients were instructed to change the glucometer if they had even the slightest suspicion that it was faulty, the spokesperson said, adding that such switches were made less than 12 times a year over the past six years from a pool of 60,000 Maccabi users.

i-SENS' spokesperson further said that according to the data collected by the Israeli importer and Maccabi, the reason for the faulty measurements in most occasions was improper use, such as users who did not wash their hands before pricking a finger or strips that were kept in unsuitable conditions. As Maccabi frequently tests its products in clinical labs, a problem with the device's accuracy would have been discovered by now had it existed, the spokesperson said.

Maccabi offers its members a choice between CareSens and FreeStyle devices, and both devices have similar costs and accuracy levels, a spokesperson for the organization said. After receiving several complaints regarding the accuracy of CareSensN in 2017, Maccabi retested the device in its own labs and found it accurate, the spokesperson added. Some time later, there was a concern that the sticks were unsuited for women who experienced anemia during their pregnancy, and so the sticks were changed, the spokesperson said.

The current tender for the organization's glucometers is still ongoing, the spokesperson for Maccabi said, adding that the publication of the article shortly before the tender ends raises questions, especially as it pertains to an issue that was investigated and resolved two years ago.