Interview
Architect Sees Infinite Scale in Design of Spiral Tel Aviv Tower
A person standing at the top of this spiral-shaped 340-meter high Tel Aviv tower will be able to see Jerusalem
In December, New York-based architect James von Klemperer arrived in Tel Aviv on a 16-hour visit to attend a press conference in which his design for a new Tel Aviv skyscraper was unveiled. Von Klemperer, who is president of the architectural firm Kohn Pedersen Fox (KPF), had been commissioned to design a 91-floor tower, the fourth addition to Tel Aviv's Iconic Azrieli Tower complex, known for their geometric shapes overlooking the city. When completed, in 2025, the 340-meter high tower will be Israel's second tallest. On a clear day, a person standing on the top floors could see all the way to Jerusalem.

For daily updates, subscribe to our newsletter by clicking here.

The project, which is estimated to cost a cool NIS 2.5 billion ($691 million), is set to accommodate some 7,000 workers, according to assessments by the Azrieli Group. Today, 60,000 people visit the Azrieli complex— which includes a shopping mall in addition to the three office buildings and is adjacent to a central Tel Aviv railway station— each day. This number is expected to grow by 30,000-40,000 in the coming years.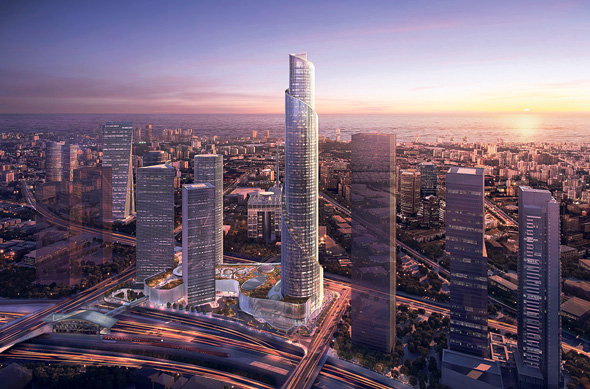 The fourth Azrieli tower (illustration). Photo: KPF

Von Klemperer and his team designed a spiral-shaped tower reminiscent of a conch. The design was meant to play into the geometric theme of the existing towers—one of which is sphere-shaped, a second triangle, and the third square. "Our design makes a clear and direct visual connection between the ground and the sky," Von Klemperer told Calcalist in an interview in November.

"The scale of the building is seemingly infinite. Because of the scale and location of this project, we knew it would assume great importance to Tel Aviv, serving as a centerpiece for the whole city," von Klemperer said.

"We searched for a design whose form would have a memorable simplicity, almost an archetypal quality."

The first two towers of the Azrieli complex—the 49-floor sphere-shaped tower and 46-floor triangle-shaped tower—were completed around 20 years ago. The third square-shaped 42-floor tower was completed in 2007. In 2017, the developers, Azrieli Group, completed another tower, the 61-story, 238.5-meter tall Azrieli Sarona tower, located across the road from the original complex. Construction of the new tower is expected to take between six and seven years.

KPF is one of the world' leading architecture firms with 640 employees in offices in London, Shanghai, Hong Kong, Seol, and Abu Dhabi. Among the notable buildings designed by KPF is Seoul's 123-floor, 555-meter Lotte World Tower, the 555-meter Ping An International Finance Centre in Shenzhen, and New York's One Vanderbilt tower, designed to be 397 meters tall when completed in 2020.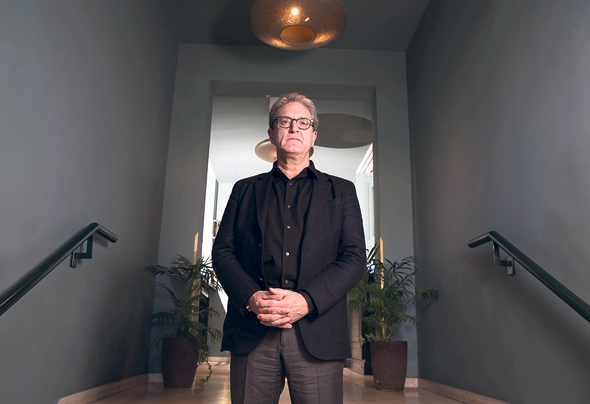 James von Klemperer. Photo: Orel Cohen

During von Klemperer's short visit, his eighth to Israel, he made the time to visit Esther Katz, mother of New York-based architect Paul Katz, his former colleague, and predecessor as president of KPF, who died suddenly in 2014. Katz, a South-African Jew who studied in Israel and considered it home, had been waiting for the right opportunity to design a building here. The new Azrieli building, KPF's first project in Israel, is in many ways a tribute to Katz.

Tel Aviv, von Klemperer said, has a lot going for it. "It is a garden city, a seaside city, a historical city, and a modern city," he said. "We do like the fact that Paris is Paris, and Rome is Rome. Tel Aviv is a younger city."

Tel Aviv is known for its Bauhaus architecture, a clean, modern architectural style that developed in Germany in the 1920s and 1930s.

Von Klemperer's father, a Harvard-educated historian who grew up in Pre-War Berlin, cared a lot for the Bauhaus style, the architect said.

"As a young man, he regarded modern design as a manifestation of free thinking, and an assertion of independence from reactionary authority in Germany," von Klemperer said.

The perspective still resonates, he noted.

"For me, the architecture of the White City of Tel Aviv is more than pretty architecture. It is a reminder of the success of a community in exile, a record of what refugees can achieve, and an affirmation of the idealism of modern architecture. Our design for the Azrieli spiral tower hopes to echo a bit of that spirit."