National Economic Conference
Israel's Budget Deficit a Crucial Problem, Says Bank of Israel Governor Amir Yaron
The next government must prioritize Israel's fiscal issues and the ballooning deficit while implementing steps to increase market productivity, Yaron said Monday during Calcalist and Bank Leumi's National Economic Conference in Tel Aviv
Israel's entering government must prioritize the country's fiscal issues and the ballooning government deficit, Bank of Israel governor Amir Yaron said Monday. Yaron spoke during Calcalist and Bank Leumi's National Economic Conference in Tel Aviv. He suggested steps such as cutting down on inefficient expenses, canceling tax exemptions, and potentially, upping taxes.

In August, the bank published operative recommendations for increasing the productivity of the Israeli economy. The suggested actions are projected to cost Israel around NIS 44 billion (approximately $12.4 billion), Yaron said, but they are expected to achieve long-term benefits worth NIS 270 billion (around $76 billion).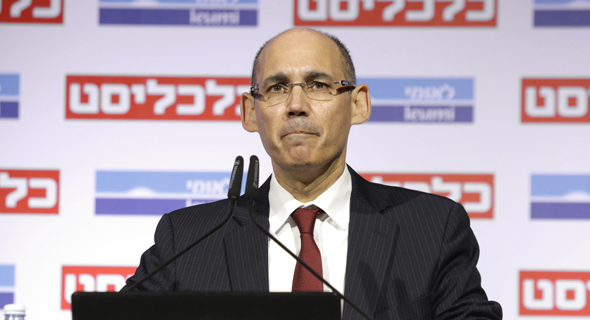 Bank of Israel governor Amir Yaron. Photo: Amir Sha'al
The need to cut down expenses to fight the deficit does not mean the next government should postpone the implementation of the steps recommended by the bank, Yaron cautioned. "This is because the planning stage and the creation of the tools required for the reform... will take time and are relatively low in terms of expenses." Furthermore, he said, many of the steps can already be made as they are dependant on diverting existing revenue sources and administrative procedures.
As the next stages of the recommendation will require more substantial investment, it is imperative that the government get a handle on the deficit—now over 3.5% of GDP—Yaron said. "This means diminishing the deficit to a level that would at least ensure a stable debt/GDP ratio, and keeping it that way for the next few years." Yaron cautioned against the government raising additional debt to finance the plan, saying that "the current deficit is, in our estimation, too high to enable any further increase due to short-term macroeconomic risks."
To increase Israel's GDP per-hour-worked—24% lower than the OECD average—it is not enough to increase investment in infrastructure, Yaron said. Special attention should be paid to the relatively low quality of education in the country, he said. While Israel is receiving increasing recognition as the startup nation, the ability of most employees in Israel to deal with basic problems is low, he said. "How do you strengthen the week and increase employee productivity? There is a direct and causative relationship between the quality of education and productivity."
The emphasis and quality education and training should extend to Israel's mature population as well, Yaron said. "The increase in the job market's flexibility and the delay in retirement age, combined with an increase in lifespan, necessitate a major reform."