Analysis
WeWork's Troubles, SoftBank's Problem
SoftBank has already been burned by the lackluster IPOs of Uber and Slack. The current chaos surrounding WeWork's upcoming IPO and the cut to its valuation could call SoftBank's business model into question
More than the will-it-won't-it chaos that surrounds WeWork's upcoming initial public offering is the co-working giant's story, it is the tale of SoftBank. The Japanese holding company founded and led by Masayoshi Son became the tone-setter for tech investments in recent years, creating the "SoftBank Effect"—quick, massive investments that give startups inflated valuations and flood them with cash.
Over the weekend, many news outlets reported that WeWork's IPO, initially expected to be the second largest tech IPO after Uber with a valuation of $47 billion, will now occur according to a much lower company valuation of between $20 billion and $30 billion. Then came reports that the IPO might be postponed or cancelled altogether. All this just days before the company's roadshow, set for the second half of this week.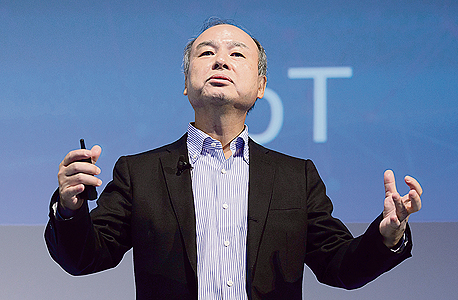 SoftBank founder and CEO Masayoshi Son. Photo: Bloomberg
More than Adam Neumann, the charismatic co-founder and CEO of WeWork, or the We Company as it recently rebranded, it was SoftBank that blew the company up to its impossible valuation of $47 billion, which has now shattered against the cliffs of Wallstreet's analysts. Since the valuation was announced during WeWork's January round, several troubling issues have been made even clearer, such as the company's extreme losses and its bizarre agreements with Neumann. Consequently, potential investors are now doubting the company's tech label and whether it is actually worth its inflated price tag. Many of them now view WeWork as a debt-laden real estate company, one that may be doubling its revenues each year but has accumulated losses of $3.5 billion over the past three years.
Neumann, on his end, has tried to calm the waters by announcing he will return to the $5.9 million he was paid for coming up with the company's name. Furthermore, after attracting fire for the fact that it does not have a single woman on its board of directors, WeWork announced on Wednesday that Frances Frei, a Harvard Business School professor and former senior vice president at Uber, will be joining its board. At this point, it may be too little, too late.
SoftBank holds a 29% stake in WeWork, having invested a total $10.7 billion. In 2018, SoftBank made plans to invest $16 billion in the company, but that move was perhaps too risky even for Son, as only $6 billion of the sum were eventually invested, the latest being January's $2 billion round.
When it comes to Uber and Slack, the once-shining jewels of SoftBank's portfolio, one could have claimed that their underperforming IPOs were circumstantially unlucky. But if WeWork lists at between $20 billion and $30 billion, an almost 50% decrease from its valuation at its last SoftBank-led funding round, it will be a hard hit for Son. Such an event could give credence to what Son's critics have been saying for years—that he may be a wiz when it comes to courting investors, but his business model has yet to be proven.
In the current circumstances, it would be more beneficial for SoftBank to invest another few billions in WeWork privately, according to a company valuation of between $40 billion and $50 billion, than to see its portfolio company go public according to a valuation of $20 billion. Such a low IPO will cement the loss and force SoftBank into a move investment funds try to avoid at all costs—a down round. With a private investment, SoftBank could enable WeWork to wait out the current market volatility while at the same time giving it time to cut down on its losses. If WeWork manages to maintain its current quick growth rate, it could then try again at a valuation closer to what it is worth in SoftBank's books.
Behind the scenes, what is seemingly happening now is a pitched battle between SoftBank and all of the major U.S. investment banks that serve as the underwriters for the IPO. For SoftBank, a lowballed IPO will hurt not only its image but also its second Vision fund, for which it is currently raising commitments. The underwriters, which include the likes of JP Morgan and Goldman Sachs, have their own stake in the IPO, mainly their reputation, and they don't want to see it cancelled. They would rather cut the valuation and give the stock a chance to recover later. This way, they will enjoy their fat commission and will also get to take part in what will probably still be one of the biggest IPOs of the decade.
In recent years, much criticism has been levied at SoftBank for what it did to tech valuations, which consequently forced out more conservative investment bodies from otherwise good deals. For the tech industry and the venture capital market, the storm surrounding WeWork's IPO could prove beneficial, a chance to till the soil and clean the system. For investors, it could be an opportunity to return to a market that awards fast growth rates, but doesn't shy from asking questions about a company's business model or its path to profitability.