Alibaba-Operated Tmall Looking for Israeli Brands
Liu Ying, who heads Tmall's premium beauty business, told Calcalist the company is looking for Israeli suppliers in the domains of beauty and aesthetics
Alibaba Group-operated Tmall.com, a business-to-consumer online retail platform, is looking for beauty and aesthetics technologies and suppliers in Israel, according to Liu Ying, who heads Tmall's beauty business. Ying recently visited Israel to attend the launch of a new home device from Pollogen Ltd., a subsidiary of Israel-based medical and aesthetic laser company Lumenis Ltd.

Tmall does not sell products of its own making but rather connects sellers and buyers. It is a spinoff from Alibaba-owned Chinese online shopping website Taobao, and in 2018 the two had a combined 53% market share for global sales in China. Tmall has two websites, a marketplace and a global website that offers over 20,000 brands from 77 countries.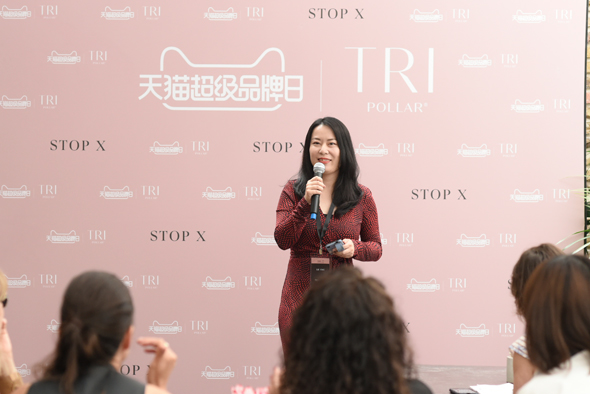 Liu Ying. Photo: Ofir Yona and Alon Segal
Tmall currently lists 10 Israeli beauty brands that are very successful, with a year-over-year increase of 100% in sales overall, Ying told Calcalist in an interview. The combined sales of all ten brands are estimated at tens of millions of dollars a year.
Ying, for whom this was the first visit to Israel, said that she had heard Israel is known for its innovation and technology, and called on more Israeli companies to open stores on Tmall. She said she believes there is a demand for Israeli products in China; Chinese consumers are knowledgeable, and are looking not just for well-known brands like L'oreal but also for niche brands. Furthermore, the recent increase in tourism from China to Israel leads to consumers looking for Israeli products when they return, she said.
Lumenis develops minimally-invasive, laser-based treatments for the surgical, ophthalmological and aesthetic markets. In 2015 the company was acquired for a little over $500 million by London-based private equity firm XIO Group. Lumenis sees much value in the Chinese market and its opportunities, and invests many resources to best meet its unique demands, CEO Tzipi Ozer-Armon told Calcalist.