PoV
To Boost the Economy, Beijing Sets Out to Become China's Nightlife Capital
In an effort to increase private spending, early-bird Beijing is extending nighttime subway service and paying businesses to stay open later
Some things in life are constant, and the timetable of the Beijing Subway was certainly one of those things. Shutting down nightly at 11:00 P.M. meant that Beijing's underground was not designed to serve late-night diners and nightcap drinkers. Those dawdling on their way home at night could easily find themselves facing the closed gates of the station, or worse, hurrying down the steps only to have a tired-eyed security guard inform them they have just missed the last train.

Earlier this month, however, Beijing authorities announced a historical change: to encourage private spending and fight the country's economic slowdown, the city will increase the operation hours of the city's main 1 and 2 lines, which pass through the city's popular shopping and entertainment areas. Effective immediately, both lines will now operate until 12:30 a.m. on Fridays and Saturdays, with the extended hours taking place annually between May and October. It may still be a far cry from New York, Melbourne, and Copenhagen, which offer a 24/7 subway service, but it is a big change for China's conservative capital.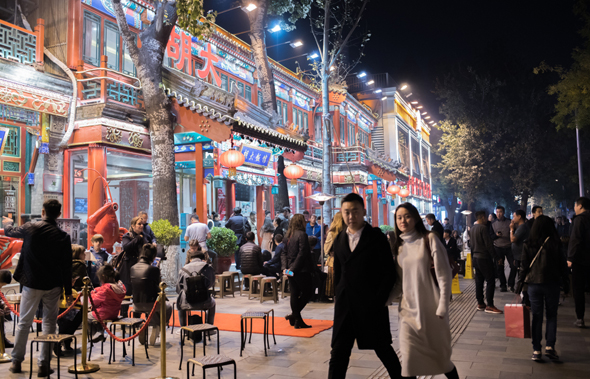 Beijing's nightlife. Photo: Shutterstock

Beijing is not the first city to stretch its transportation hours in an effort to boost the economy. In 2013, Boris Johnson, then-mayor of London, announced weekend all-night service for two main tube lines, a move that came into effect in 2016.

Beijing is not a lively nightlife city by any means, not compared to New York, Berlin, or Tel Aviv, not even compared to Shanghai. Many of its residents work long hours and go to bed early.

The city has several not so sizable entertainment districts. Those include fashionable, upscale Sanlitun; the Hutongs, narrow streets or alleyways commonly associated with older Beijing; Gulou Dongdajie, or Gulou East Street, one of the city's most charming areas; and the bars surrounding Houhai, a lake in central Beijing. In the rest of the city, you'll struggle to find something to do after 10:00 p.m.

Over the past few years, it seemed authorities were promoting a more restrictive attitude towards local nightlife, with restaurants and bars shutting down in large numbers throughout the city. But then came early July's 180-degree turn, when the city published its plan to become the "nightlife capital" by 2021.

It is no secret that China's economy has seen better days. Last week, the country's National Bureau of Statistics published results for the second quarter of 2019, revealing the lowest gross domestic product growth on record as trade tensions with the U.S. continue to mount. It stood at 6.2%, lower than the 6.4% China saw in the second quarter of 2018, and the lowest since the country started reporting its GDP growth since 1992.

The government is attempting various methods to boost growth, such as large-scale construction and infrastructure projects, but those also serve to increase the country's already high debt. Another necessary avenue, therefore, is boosting private spending, which was responsible for 60% of the growth seen in the first quarter of 2019. The government has already tried to encourage spending via tax cuts and subsidies for purchasing televisions and refrigerators, but China's future-wary citizens are not looking to make any superfluous acquisitions just now, a mindset that is also slashing smartphone and new car sales in the country.

The Nightlife Capital plan is yet another attempt to get citizens to open their wallets, especially after 6:00 p.m. According to a 2017 ranking by media consortium China Business Network, Beijing's nightlife put it in fourth place in China, after Shanghai, Shenzhen, and Guangzhou. Another ranking revealed that Shanghai has twice as many 24/7 convenience stores as Beijing, despite being the smaller of the two.

Chinese nightlife is first and foremost about food, China's unrivaled national pastime. If a Chinese person really wants to let loose, he or she will go for after-dinner karaoke. Loud clubs are popular among youths, but the concept of bars where you just sit, drink, and converse with your friends is considered odd by most Chinese people. If one is drinking alcohol, it should come with food, or at least a show.

Clubs and bars are not mentioned in the Beijing nightlife plan, but food is. In addition to extending subway hours and adding new nighttime bus routes, the city plans to build 16 night markets and dedicate another 10 streets to restaurants. The city is also planning to establish a network of 24/7 restaurants, convenience stores, bookstores, and cinemas near various subway stations, and boost the offering of shows like operas and traditional comedies.

Beijing also plans to expand the opening hours of famous tourist attractions such as the Summer Palace, the Temple of Heaven, and the Olympic park, and add nighttime activities. The city has even offered subsidies to encourage museums, shops, and malls to stay open later.

Will these plans manage to boost growth? It is still too soon to tell. But life certainly stands to become a lot more exciting.