Viral Content Companies Taboola and Outbrain to Merge
Taboola has agreed to pay Outbrain shareholders $250 million and will hold a 70% stake in the merged company, which will be led by Taboola founder and CEO Adam Singolda
The two leading viral content distribution companies, Taboola.com Ltd. and Outbrain Inc., have agreed to combine forces, one person familiar with the deal who spoke on condition of anonymity told Calcalist Thursday. According to that person, Taboola has agreed to pay Outbrain shareholders $250 million, and will hold a 70% stake in the merged company, which will be headed by Taboola founder and CEO Adam Singolda.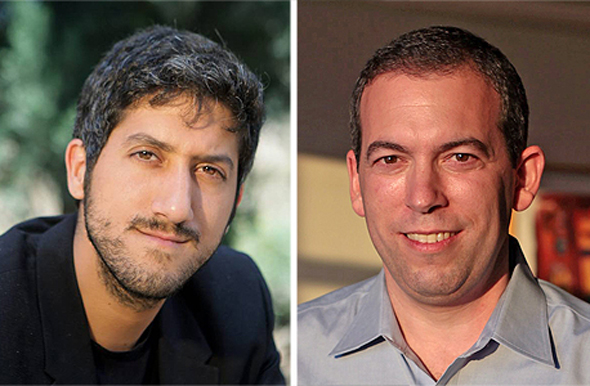 Taboola CEO Adam Singolda (left) and Outbrain co-CEO Yaron Galai. Photo: Orel Cohen
Read an interview with Taboola's and Outbrain's CEOs here.
Both Taboola and outbrain were founded in 2006 in Tel Aviv and today headquartered in New York.
Taboola climbed to the top of the global digital content market, publishing links with titles like "you won't believe what these child stars look like today!" on thousands of publisher websites and taking a cut of the generated revenues. The company touts an annual turnover of over $1 billion and raised $160 million from investors to date according to Pitchbook data.
Taboola employs some 1,400 people across 20 offices worldwide, 600 of which are based in Israel, where the company operates one development center in the greater Tel Aviv area and another in southern city Be'er Sheva. Last month, Taboola announced its intention to open a research and development center in Jerusalem.
Outbrain buys advertising space on the websites of publishers such as CNN, BBC, The Washington Post, The Guardian, and Spiegel Online, using it to promote sponsored content. The company has offices in 15 cities worldwide. In February, Outbrain announced a stock deal to acquire German online advertising company Ligatus GmbH, a wholly owned subsidiary of German publisher Gruner + Jahr GmbH & Co. KG that offering native advertising services. The acquisition was planned as part of Outbrain's efforts to expand its European operations, adding more than 1,400 publishers to the company's roster.
The two companies have negotiated a merger on several occasions in recent years, but could not agree on which company will lead the merged entity, the person familiar with the matter said. Taboola's recent revenue growth has finally put the debate to rest, paving the way for the deal signed on Wednesday, the person said. The new merged company will employ some 2,250 people.