The Cyber Company, the Former Officer, and the Lost Money
Three Israeli entrepreneurs are suing their former partners at cybersecurity startup Senpai Technologies, claiming they were cheated out of monetary compensation for their shares
A business squabble between several partners at a small cybersecurity startup called Senpai Technologies Ltd. led them to approach retired Israeli colonel Tal Dillian, a well-known investor and key figure in the Israeli tech industry, for help in resolving the dispute. The partners did not imagine Dillian would make matters much worse, so much so that they all ended up in court.

In a lawsuit filed with Tel Aviv district court earlier this week, Jonathan Lampert, Eric Banoun, and Roy Shloman allege that their partners Guy David and Omri Raiter ״stole״ the company they founded together. They further claim via their legal representation, Eran Spindel of Spindel & Co., that Dillian, who entered the picture only recently, was the one who completed their ousting and stripped them of their monetary compensation.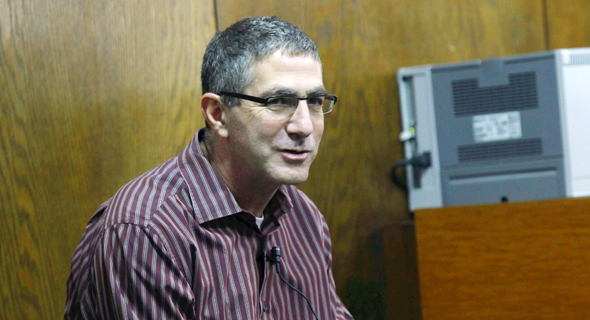 Tal Dillian. Photo: Amit Sha'al

According to the filing, the relationship between the plaintiffs and their partners started four years ago, when Lampert, Banoun, and Shloman joined David and Raiter to found cyber intelligence company Senpai. It was decided that David will receive a 35% stake in the company and serve as its CEO and Raiter will also receive 35% and serve as the chief technology officer. Shloman, Lampert, and Banoun were each to receive 9%, with Shloman set to serve as vice president of sales position and the other two having no official role but agreeing to scout for clients and partnerships.

The plaintiffs allege that while they had done their part, bringing in deals worth $10 million, David and Raiter were plotting to take over the company, hiding information and leading to the "evaporation" of those millions without granting the other three access to the financial reports. The plaintiffs further allege that shortly after Senpai was formed, Raiter set up a private company of his own in Cyprus and transferred some of Senpai's business under its control without the knowledge or approval of the other partners.

Shloman, Lampert, and Banoun have stated in the lawsuit that after a long stalemate with the defendants, they offered David and Raiter two options: full transparency, or bringing in a new shareholder who will acquire part of the company and treat all partners objectively and fairly. The second option was selected. Shloman, Lampert, and Banoun offered to bring in Rayzone Group Ltd., which will invest according to a company valuation of $15 million to $20 million. David and Raiter refused and offered Dillian instead.

Dillian held several positions in the Israeli infantry before being appointed to head the intelligence corps' tech unit. During his tenure, a military police investigation was opened against him due to financial irregularities, which eventually led to his retirement. The offer to add him as an investor surprised Shloman, Lampert, and Banoun, they said. According to the lawsuit, Banoun and Dillian were previously acquainted, having been partners at Circles Technologies, and the three already contacted him with a similar offer and were turned down. Understanding they were outmaneuvered, they allegedly agreed to sell Dillian their shares according to a company valuation of $12 million. Lampert was to receive $1.2 million, while Shloman and Banoun agreed to exchange their stock for shares of Dillian's cybersecurity company Intellexa Ltd.

Shloman received notice about his termination in May. The three were supposed to receive their compensation in June, but that never happened. The lawsuit quotes a Whatsapp conversation where Dillian asked Banoun to get Lampert "off his back." The company is bankrupt and insolvent, it is worth nothing on the market, Dillian is cited as saying. After writing that he is infusing the company with money to ensure its survival, Dillan allegedly told Banoun that "someone should explain to Jonathan (Lampert) that I am doing him a favor."

The three then discovered Senpai was listed on Intellexa's website as part of its group. After unsuccessful attempts to contact the representation of David, Raiter, and Dillian, the three were notified at the beginning of October that Senpai's operations were frozen. They were also told that their shares will be diluted unless they infuse the company with money.

In their lawsuit, Shloman, Lampert, and Banoun state that they do not know whether the decision to defraud them was premeditated or decided upon after Dillian was added as an investor, but that they believe he has taken part in a scheme with David and Raiter with the intention of divesting Senpai of its operations.

Dillian's legal representation has yet to reply to a request for comment. David and Raiter could not be reached for comment.