Israelis Among Top Gainers in Wealth Over Past Year, Says Credit Suisse
The global bank's research institute published its annual global wealth report for 2019 Monday
Israelis are among the world's top gainers in wealth over the past year, according to Credit Suisse's annual global wealth report, published Monday. Israel placed eighth among the world's 10 biggest gainers when changes in wealth per adult were measured between mid-2018 and mid-2019, according to the report. The top countries, in descending order, are Switzerland, the U.S., Japan, the Netherlands, New Zealand, Singapore, Israel, Canada, and Spain.

The global bank's research institute started publishing its global wealth report a decade ago with the global financial crisis, analyzing the household wealth of over 5 billion people globally. According to Monday's report, global wealth grew by 2.6% over the past year, to $360.6 trillion—below the average growth rate seen since the financial crisis, excepting 2014-2015, but still exceeding the global population growth rate. Average wealth per adult reached a record number of $70,850, 1.2% above the sum reached mid-2018.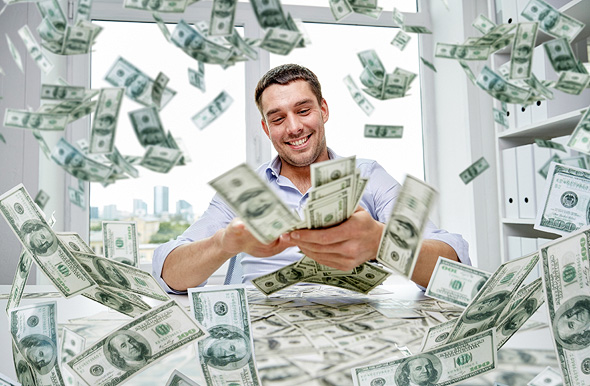 Millionaire (illustration). Photo: Shutterstock
The number of new millionaires was up 1.1 million from mid-2018, reaching a total of 46.8 million, with the U.S. adding over half—675,000 new millionaires. The U.S. had 18,614,000 millionaires in mid-2019, high above China in second place, which had 4,447,000. The bottom half of global wealth holders accounted for less than 1% of global wealth in total, while the top 10% has held 82% of global wealth by mid-2019. The top 1% held 45% of total global wealth, with the U.S. accounting for 40% of the top 1%. It is worth noting that Credit Suisse takes into account not just liquid funds but also assets such as real estate.
Israel has more millionaires now than in any other point in its history, with the rise in "heavyweight" millionaires, those with at least $30 million in their accounts, growing faster than the U.S., U.K., and nearly all of Western Europe. While some of them make their money from real estate—selling an inherited apartment in Israel could instantly make someone a millionaire—most of Israel's nouveau riche make their money off the country's booming tech scene.
According to Credit Suisse, over the past year, average wealth in Israel has grown slower than previously forecasted based on its gross domestic product, but the country still reached 131,000 millionaires in mid-2019 and is expected to see a 32% increase over the next five years, to 171,000 in 2024.