Teva Overcomes One Hurdle, Many Still Ahead
The Israeli drugmaker announced on Monday two major achievements regarding the opioid abuse lawsuits against it; but even without taking into consideration its additional legal complications, the settlements it has reached will severely strain its resources
Teva Pharmaceutical Industries Ltd. closed 8.67% up on NYSE Monday following its double settlement announcement. The company stated it had reached an agreement with both Cuyahoga and Summit counties of Ohio to pay $25 million over three years and provide both counties with buprenorphine naloxone—used to treat opioid addiction—valued collectively at $25 million. In this way, Teva removed itself from the Track 1 opioid litigation. Teva also announced it had reached an agreement in principle for a global settlement framework for all opioid abuse-related lawsuits against it, under which it will pay $250 million over the next 10 years and donate buprenorphine naloxone valued at around $23 billion in wholesale acquisition costs.
If completed, the global framework should pertain to all 50 U.S. states, and the payment will be split between all jurisdictions according to a formula that has yet to be determined.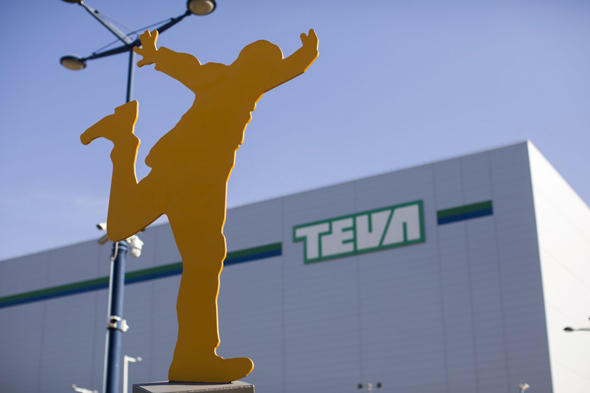 Teva. Photo: EPA
When it comes to Teva's pledge to supply drugs, the difference between gross and net costs can be as high as 80% or 90%, according to Sabina Levy, head of research at Israel-based investment house Leader Capital Markets Ltd. Assuming that net costs are indeed 10% of the gross costs, in terms of sales Teva's commitments amount to only $2.3 billion, she said. "We estimate that the cost of goods sold is 60%-65%, meaning the drugs' costs are estimated at $1.4 billion to $1.5 billion for the entire time period."
Levy further said that as far as she is aware, Teva's "free" supply of the drug is not expected to significantly impact the bottom line for its buprenorphine naloxone sales in the U.S.
If the estimates are correct, then the framework is a good settlement for Teva, stipulating lower commitments than earlier forecasts did, Levy said.
Oppenheimer & Co. Analyst Asaf Chandali said that according to the framework currently discussed, Teva will experience a $160 million cut a year to its operating profit. In 2018, Teva reported an operating profit of $3.16 billion. Based on the operating profit Teva reported for the first six months of 2019, the company's operating profit for 2019 will be around $2.52 billion, meaning the discussed settlement will cut 5%-6.3% from its annual operating profit.
Moody's Investors Service said in a research note Tuesday that the proposed global framework is credit negative due to the adverse impact the drug supply pledge will have on Teva's earnings in the upcoming years, but that its cash component is relatively modest.
It should be noted that the global framework has yet to be finalized, and market estimates are that it will take a few months. Teva's agreement with the two Ohio counties did avert the trial that was scheduled for Monday, buying the company some breathing room to hammer out a more encompassing settlement. While its final form could change, the current framework—and the reactions to it—paint a prettier picture than previous settlements Teva reportedly proposed. A previous pitch Teva made, to supply drugs worth $15 billion over a decade, estimated Teva's damage at $4.5 billion to $4.7 billion, but included drugs with a narrower gross-to-net gap than buprenorphine naloxone.
The main issue is that even if Teva manages to tie up all its loose ends in the opioid abuse lawsuits, it will still need to contend with another legal matter: a lawsuit filed in May by over 40 U.S. jurisdictions against 20 generic drug makers, including Teva, alleging they have all conspired together to create a drug-fixing cartel in the U.S. Though still in its early stages, the process could end up costing Teva much more.
Teva is already contending with net debt of $26.6 billion, as of the end of June 2019. Its revenue sources shrunk in recent years as the company divested non-core operations and cut its drug portfolio as part of its reorganization plan. In 2016, the company reported revenues of $21.9 billion. For the first six months of 2019, the company reported revenues of $8.6 billion—meaning annual sales of $17.2 billion if its revenues will be similar for the second half of the year. The company forecasted revenues in the range of $17 billion to $17.4 billion for 2019.
Even taking into account the best-case scenario—net costs amounting to 10% of the gross costs—that means $1.5 billion over 10 years. Add the cash compensation, and Teva will be facing a cut of $175 million a year. As Teva's free cash flow (FCF) has already taken a large hit this past year, even that not so large some will weigh Teva down considerably, constituting a cut of between 14.6% and 10.9% to its FCF in the upcoming decade.