This Is how Teva and 19 of its Rivals Fixed U.S. Drug Prices
A 524-page civil lawsuit filed Friday in the U.S. alleges that 20 generic drugmakers colluded to influence drug prices, with executives meeting regularly to set prices and split the market
On Friday, a 524-page lawsuit was filed in a U.S. civil court by Connecticut Attorney General William Tong against 20 generic drugmakers, Israel's Teva Pharmaceutical Industries Ltd. chief among them, for allegedly conspiring together to create a drug-fixing cartel. Other companies named in the lawsuit include Mylan, Allergan's generic unit Actavis—acquired by Teva in 2016—Sandoz Inc., Pfizer Inc., and Novartis' generic business.

For daily updates, subscribe to our newsletter by clicking here.

According to the lawsuit, which was reviewed by Calcalist, senior executives at these companies met many times a year to agree on drug prices and on the market share each company will receive. The defendants also shared sensitive information about strategic issues such as bids on upcoming tenders and pricing strategies.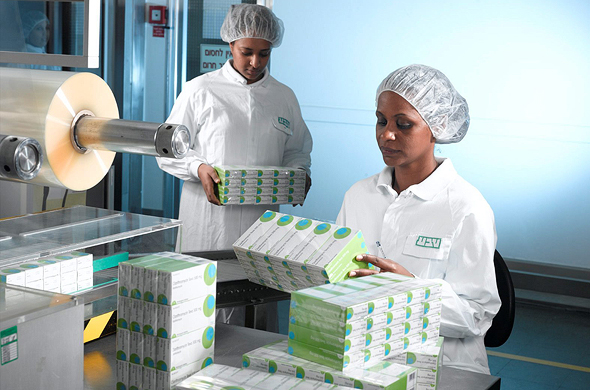 Teva's Israeli headquarters. Photo: EPA

Another more informal form of meeting received the moniker GNO, or girls night out, according to the lawsuit, in which female employees from different companies held gatherings for the same purpose.

An interesting tidbit extracted from the lawsuit is that many of the generic drugmakers that operate in the U.S. have headquarters that are relatively close to each other, usually around New Jersey or East Pennsylvania, providing them with ample networking opportunities. 41 generic drug companies are located between New York and Philadelphia, according to the lawsuit.

Teva and the other companies worked methodically and systematically to reach agreements that will artificially maintain high generic drug prices and create a "façade" of market competition when it was actually almost nonexistent, the lawsuit alleges.

According to the lawsuit, in 2012 the companies were no longer satisfied with the status quo and started planning an extensive drug hike. Different mechanisms were set in place to maintain each company's market share and ensure the price hikes were sufficiently spread out. New companies were also added to the cartel if they intended to release rival drugs that could threaten one of the members.

The lawsuit describes a case where Teva, Taro Pharmaceutical USA Inc., and Wockhardt USA LLC split the market for a drug called Enalapril Maleate, and another where Teva and Taro contacted Sandoz regarding antifungal medication Ketoconazole. Some of the defendants had long-term agreements with competitors intended to limit competition on similar products, according to the lawsuit. One of the defendants, a Teva employee named Nisha Patel, is quoted as explaining to a now-witness that she was hired by Teva to identify products for which the company can hike prices.

A little while later, in July 2013, Teva increased the prices for 21 drugs, creating "great pressure" from Sandoz's management to get a copy of Teva's pricing list. A Sandoz employee turned witness approached David Rekenthaler, former vice president of sales for U.S. generics at Teva, and received the list via his private email.

In another example, a Teva senior executive approached colleagues, including Mylan vice president of sales James Nesta, to gain information about Mylan's release of a generic version of a drug for which Teva was one of two main generic suppliers of, and to set a price and market share for Mylan's generic.

In the years 2013 and 2014, according to the lawsuit, Teva's marketing and sales executives spoke 1,389 and 941 times, respectively, with executives of competing companies on related subjects. Over 80% of those conversations were held by the same few senior Teva executives. The collusion was widespread in the industry beyond just Teva, the lawsuit stated. "Everyone spoke with everyone," it read.

Overall, between July 2013 and July 2014, over 1,200 generic drugs saw an average price hike of 448%, according to one of the reports cited in the lawsuit. Another analysis, by Sandoz, counts 1,487 price hikes of over 100%, with 12% of them seeing hikes of over 1,000%.

Teva started facing the repercussions of its upcoming patent expiration for Copaxone in the same time period. In the first quarter of 2013, Teva reported a 26% decrease year-over-year in net profit, a 4% drop in sales, and a 7% drop in generics sales. The situation led the company in April 2013 to hire Patel, who in May already emailed Teva with a list of 12 drugs it could increase the prices of, with the cooperation of its competitors. Another list soon followed.

Approached for comment, Teva referred Calcalist to its previous response.