The Apple Doesn't Fall
After his brother died, Israeli businessman and former Teva executive Eyal Deshe stepped up to lead his apple-picking drone startup, and discovered the joy of being a hungry entrepreneur
Israeli entrepreneur Oz Desheh's surgeon was not optimistic. It was 2017, several weeks after 59-year-old Desheh underwent surgery to remove a glioblastoma (GBM), an aggressive type of brain tumor. Looking at his test results, the doctor bluntly told family members that there was little cause for hope.

Shortly after the surgery, things looked more promising. Desheh left the hospital walking on his own two feet, the first steps towards what doctors and relatives hoped would be a full recovery. The whole family gathered to celebrate at a fancy restaurant. But then the seizures returned. Tests showed the surgery was not enough to fight off the violent tumor. Several months later, in October of that year, Oz Desheh died, leaving behind a wife, three kids, two parents, one sister, two brothers. He also left an early stage startup, Tevel Aerobotics Technologies Ltd., founded the year before by him and CEO Yaniv Maor.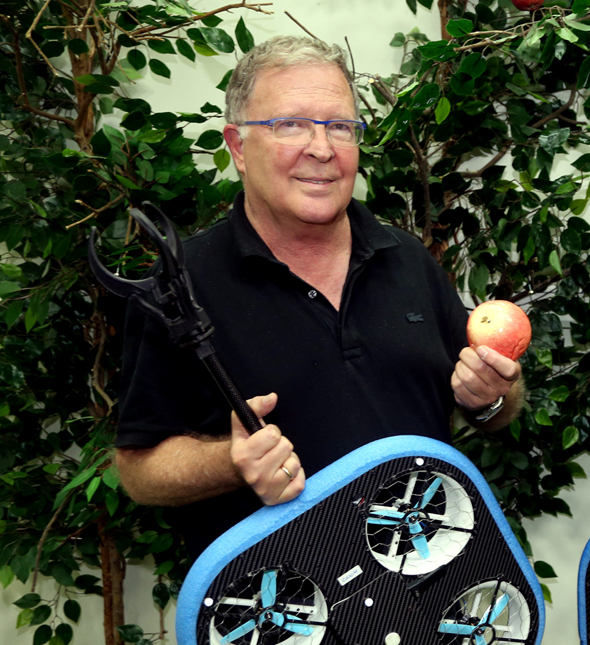 Eyal Desheh. Photo: Yariv Katz

Two years have passed since, and the Desheh family remains united, supporting each other as well as the fledgling startup. Oz Desheh's eldest brother, Eyal Desheh, one of the most prominent figures in the Israeli business world, took it upon himself personally to help his brother's drone company take off.

Desheh, 67, is currently manning two positions, serving as the chairman of both Tevel and Isracard Ltd., the Tel Aviv-listed credit card spinoff of Bank Hapoalim, one of Israel's two largest banks. Earlier in his career, Desheh was chief financial officer for Nasdaq-listed network and cloud security provider Check Point Software Technologies Ltd., before taking on the same position at Israeli drug company Teva Pharmaceutical Industries Ltd. Desheh is known for being among the leaders of Teva during its peak, but also as one of the men who orchestrated its 2016 acquisition of Allergan's generic drug business Actavis, which led to the company's current financial troubles and entanglement in numerous opioid abuse lawsuits in the U.S.

Now, Desheh, who is accustomed to working for companies employing tens of thousands of people and who raised over $40 billion in debt to accomplish Teva's Actavis deal, is spending his time and energy on raising several million dollars for a little-known company with a 25-person team, developing apple-picking-drones out of a warehouse in central Israel.

For someone in the pharmaceuticals business, his brother's illness and death still came as somewhat of a shock. "I did not have to see what happened to Oz to know drugs do not always work," Desheh said in a recent interview with Calcalist. A lot of the medication and treatments out there are not life-saving, but life-extending, he explained.

"Working for Teva, you see the dark side of the industry, the failed experiments, but also people with a true passion for saving others," Desheh said. "Anyone involved in drug development knows how many ideas fail, including some that fail at a very advanced stage," he added. "But even knowing all of this, it is still difficult not to feel helpless. I read everything there was to read about Oz's illness, I used my business connections, I talked to people in Israel and abroad—there is so much knowledge and capabilities in this field, but as of yet, no way to deal with this type of condition," he said.

Desheh studied economics and business administration before starting his career in the late 1970s at Bank Hapoalim, eventually becoming vice president of the bank's New York branch. He then returned to Israel, joining Teva under then-chief financial officer Dan Suesskind, before moving on to multinational company Scailex Corp. Ltd., then called Scitex Corp. Ltd. In 2000, he joined Check Point, where he spent eight years before returning to Teva as its chief financial officer and the second highest-ranking executive in the company. He stayed there through most of the company's turmoils, until 2017, and was even interim CEO of the multi-billion dollar company for several months.

Desheh's first tenure at Teva was in 1989, in the heyday of then-CEO Eli Hurvitz. He left the company in 1996 only to come back a little more than a decade later, in 2008, when the company was lead by Shlomo Yanai. He stayed under Jeremy Levin's brief leadership, and when he exited the company in 2013, before Erez Vigodman took the reigns in 2014, Deshe was the interim CEO and de-facto leader of Teva. During his short-lived tenure, he led the $825 million deal—smallish in Teva terms—for the acquisition of Labrys Biologics Inc., which developed the migraine-treatment drug Ajovy, today one of Teva's few remaining lifelines.

The success of the Labrys deal is especially meaningful in light of the two deals that followed—the embarrassing 2016 acquisition of Mexican drugmaker Rimsa (Representaciones e Investigaciones Medicas SA) for $2.3 billion, which later turned out to have discrepancies between information in Rimsa's regulatory filing and the underlying asset that Teva's due diligence failed to uncover, and the $40.5 billion acquisition of Allergan's generic arm Actavis, which is considered the worst deal in Teva's history. These two deals were closed underVigodman's leadership, but Desheh was right there beside him. Teva executives remember the two men had their fair share of differences, and some credit Desheh with raising concerns about both deals.

Less than a year after the Actavis deal was completed, Desheh was out.

People who worked with Desheh over his decades at Teva, Check Point, and Scitex describe a talented, thorough, and conservative man who gets things done. Some throw in condescending, arrogant, too self-assured.

In the end, Desheh was able to exit Teva with his image as a responsible adult still intact, whatever his role in the deal may have been.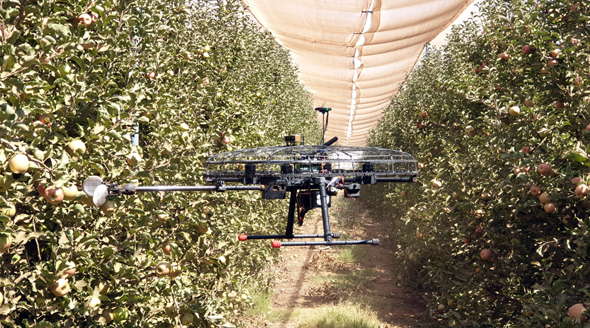 Tevel's apple-picking drone. Photo: Tevel

It seems as though even Desheh is still trying to figure out how he became chairman of Tevel, how, after building his reputation as a dry numbers man, he suddenly finds himself speaking of innovation and vision.

"I came from big organizations that already had their own systems, toolboxes, and manpower, but here you have to build everything from scratch," Desheh said. In the end, there was a company that was in danger of shutting down, with a fundraising process that was abruptly cut by his brother's death, so he stepped up. "I wouldn't have joined the company if I didn't believe in the idea, and no idea is too small if it is interesting," he said.

With Tevel, Desheh expects to change the way core agricultural processes are carried out. "It is a company that set out to solve a real problem: there are not enough people available to pick fruit," he said.

Tevel's co-founder Yaniv Meor was the one who saw the problem and realized the opportunity. A former engineer at Elta, the electronic warfare subsidiary of Israel Aerospace Industries Ltd. (IAI), he watched a news segment on how a shortage in people willing to work in fruit picking leads to massive food waste, and was determined to find a technological solution that could revolutionize an agricultural task that has remained relatively unchanged for centuries.

In 2016, when artificial intelligence and robotic technologies have matured enough to allow the development of small scale and low-cost machines that could carry out similar tasks, Maor recruited a few friends, and together they started developing a fruit-picking drone. Oz Desheh joined the team a few months later as an advisor, and quickly assumed the role of a business partner, freeing Maor to concentrate on what they describe as the "autonomous vehicle of agriculture." One of Oz Desheh's first goals was to raise funding for the new startup. Among the first investors in Tevel were Oz Desheh's brothers, Amichai Steinberg, the president of Nasdaq-listed Orbotech Ltd., and Ziv Aviram, co-founder and then-CEO of Mobileye.

Earlier this year, Tevel completed a $10 million funding round according to a $25 million company valuation. Maverick Ventures and Jerusalem-based equity crowdfunding company OurCrowd Ltd. participated in the round, becoming Tevel's two largest stakeholders.

Tevel's product is rather simple: an autonomous drone equipped with a one-meter long mechanical claw. Developed with artificial intelligence capabilities such as machine vision, the drone can select and pick fruits, determining fruit type and quality based on parameters such as blemishes and level of ripeness. Today, Desheh said, each drone can pick the fruit from up to eight trees, picking anywhere from 30 to 200 fruits per tree at a pace of 10 seconds per fruit. Each pair of drones operates with a single autonomous brain stationed on the ground. When the drones finish their task in one patch of the orchard, the brain is transferred to another patch, and the drones pick up again there. In this way, two human operators can oversee a fleet of 50 drones.

Tevel's drones are still in the development stage, and their AI software is being tested on real apples attached to fake apple trees inside a logistical facility. In August, Tevel did its first test in a real apple orchard in the north of Israel.

Desheh said the drones would be ready for the market around late 2020, and that the company is targeting the North American, European, South African, and Asian markets.

Desheh, who in April of this year led credit company Isracard through a $2.7 billion Tel Aviv Stock Exchange IPO, said he loves his alternate role as a hungry entrepreneur. "In trade shows, I man the booth just like any other entrepreneur, talking up the product," he said. "I love it. I even have two sets of outfits—more buttoned-up for the days I'm at Isracard and polo shirts for the days I'm working at Tevel."