Intel Leads $16 Million Round for Encrypted Data Collaboration Startup Duality
Duality develops technologies that enable sensitive content to be analyzed and shared by partners through encryption, without relinquishing data privacy
Encrypted data collaboration startup Duality Technologies Inc. announced Wednesday the completion of a $16 million series A funding round led by Intel Capital, the venture arm of chipmaker Intel. Cybersecurity think tank and startup foundry Team8 also participated, as did Hearst Corporation's venture capital arm Hearst Ventures.

Duality previously announced a $4 million seed round in November 2018.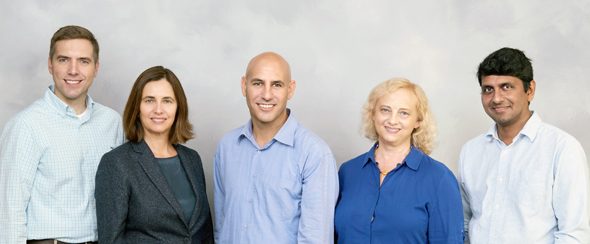 Duality co-founders. Photo: PR

Duality develops technologies that enable sensitive content to be analyzed and shared by partners through encryption, without relinquishing data privacy. The company was founded in 2016 by CEO Alon Kaufman, Vinod Vaikuntanathan, Kurt Rohloff, Rina Shainski, and Turing Award-winning computer scientist Shafi Goldwasser. The company operates out of Israel and Massachusetts.

Duality's platform enables multiple parties to collaborate on sensitive data while preserving privacy by optimizing data science computations on homomorphically encrypted data.

In a Wednesday interview, Shainski, who serves as the company's chairwoman, told Calcalist that Duality's unique expertise is offering computations on encrypted data at a large scale. We encrypt the data, but we also use open code, because in this field, you cannot operate with a black box and expect collaborators to simply trust you, she said. "Every organization today, including Facebook and Google, is looking very seriously at privacy protection," Shainski said. "We are only at the beginning—it is similar to cigarettes, which were eventually banned from public spaces. Eventually, We are due to go through a similar process with data."