Mobileye Does not Take a Single Dollar From Intel, Says CEO
Almost three years after its $15.3 billion acquisition by Intel, CEO Amnon Shashua stated the company is completely self-reliant, and that its revenues jumped 20% year-over-year in the third quarter of 2019
Mobileye does not take a single dollar from parent company Intel and is completely self reliant, co-founder and CEO Amnon Shashua said Tuesday at a shareholder conference held in Jerusalem. Intel acquired Jerusalem-headquartered Mobileye in 2017 for $15.3 billion.

Shashua further stated that Mobileye recorded a 20% increase in sales in the third quarter of 2019 compared to the same quarter the year before, which the company at least partly attributes to the fast expansion of the advanced driver-assistance systems (ADAS) market.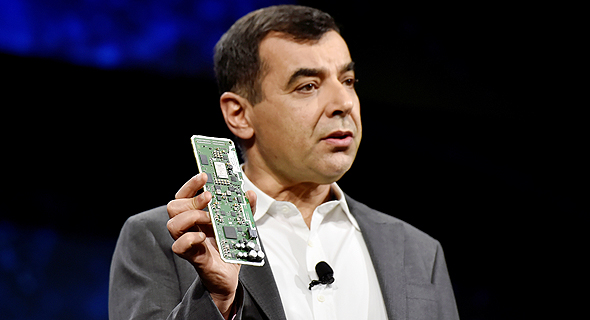 Mobileye co-founder and CEO Amnon Shashua. Photo: AFP

Mobileye's overperformance also provides Intel with a significant opportunity for growth in the data sector, according to Intel chief financial officer George Davis. Mobileye is one of Intel's biggest bets, and it is a critical part of Intel's future, he said, adding that the subsidiary is already exceeding expectations, with revenues that make up the basis of Intel's foray into the driverless car sector. Most autonomous vehicle companies are racking up significant debt, he said, but not Mobileye.

At the conference, Shashua also announced a new partnership with Chinese auto manufacturer NIO, which will integrate Mobileye's systems into the vehicles it sells in China and the Far East. Mobileye already has several collaborations and partnerships in China. Those partnerships enable Mobileye to collect data in the country, which is becoming a very important region for Mobileye, Shashua said. The company complies with local data collection regulation completely, he said, but did not make any comment on China's problematic privacy regulations when it comes to personal data collection.

Mobileye and NIO will also join forces to develop a specialized system for the robotaxi sector, which Mobileye will have exclusive distribution rights for. Shashua stated that those systems will include technological solutions from other companies, but did not disclose which companies.

Mobileye announced a robotaxi venture in October 2018 in partnership with Volkswagen and Israeli car importer and distributor Champion, which will first be piloted in Israel as Pinta. A specialized robotaxi system is expected to cost tens of thousands of dollars, he said, though he did not give an exact number. For the project Mobileye expects to start piloting in Tel Aviv in 2022, the company is aiming for a $15,000 price tag, he said.

Despite listing on NYSE last year, NIO is not well-known outside of China, where it is considered a local rival for Tesla due to its specialization in electric vehicles. Despite initial hype over its IPO, NIO's September earnings reports showed its losses were 80% up year-over-year, and according to Bloomberg, the company lost over $5 billion in its five years of operation. Furthermore, while the Chinese automotive industry is the fastest growing in the world, it is still considered behind in quality.

At the conference, Shashua outlined the company's strategy for the next few years. Mobileye, he said, has a current advantage in three sectors: computer vision, mapping, and safety. The company's strategy of ADAS-to-autonomous vehicles is a self-funded long-term game supported by research and development that will enable Mobileye to participate in two main markets, he said: the ADAS market, estimated at $72 billion, and the robotaxi market, which Intel estimates will be worth $160 billion by 2030. Robotaxis should hit the market by 2020, he said, level 4-5 autonomous vehicles by 2023, and consumer AV technology by 2025.

Mobileye does not care about being first, it prefers to take its time and learn, Shashua explained. The company believes that most players will eventually fail, leaving four to five successful companies, and would rather do it well than do it fast, he said.

Mobileye currently has 27 partnerships with automotive companies. Some of them, including BMW, Nissan, and Volkswagen, provide the company with automatic mapping information collected by their vehicles, and Mobileye announced Tuesday that it expects all European Union countries to be fully mapped for its systems by the first quarter of 2020, and the U.S. by the end of 2020.

The company also unveiled a new partnership with Paris-headquartered RATP Group, also known as the Régie Autonome des Transports Parisiens, a state-owned public transportation operator. RATP will use Mobileye's technology in Paris. The long-term partnership also has a possibility for a robotaxi venture in Paris in 2020, according to Mobileye.