Interview
Mobileye CEO Outlines Israel's Robotaxi Future
Intel's Mobileye and Volkswagen AG plan to have hundreds of autonomous taxis on Tel Aviv's streets by 2022, according to Mobileye co-founder and CEO Amnon Shashua
Intel's Mobileye and Volkswagen AG plan to have hundreds of autonomous taxis on Tel Aviv's streets by 2022, according to Mobileye co-founder and CEO Amnon Shashua. These robotaxis will be level-4 autonomous cars, meaning driverless cars that operate only under good weather conditions, Shashua said in an interview with Calcalist held earlier this week at the Consumer Electronics Show in Las Vegas, where the company took center stage.

For daily updates, subscribe to our newsletter by clicking here.

Mobileye, Volkswagen, and Israeli car importer and distributor Champion Motors Ltd. announced in October a partnership with the intention to launch a self-driving taxi service in Israel in early 2019. During 2019-2020, the project will collect data from 33 kilometers of Tel Aviv's roads, Shashua said. In the following two years, the companies intend to map another 111 kilometers of roads.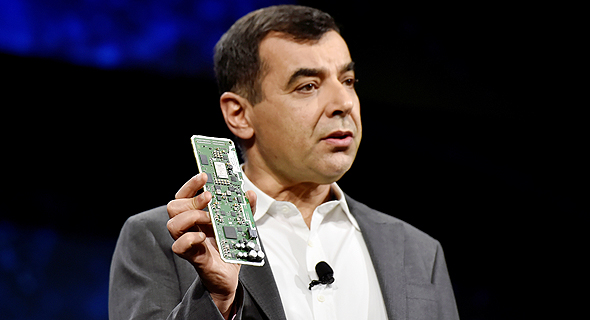 Amnon Shashua. Photo: AFP

The initiative is built from the get-go as a commercial operation with the aim of generating revenues, and of attaining full commercialization by 2022, he said. In 2023, the companies intend to expand the service to all of Israel, with as many cars as needed.

Initially, Mobileye had a different project in mind, one involving public transportation in Los Angeles, but Shahsua felt that with the Israeli project the Jerusalem-based company has a chance of keeping development in the country. First deployment of a new technology necessarily requires local research and development infrastructure, he explained, and by launching the service in Israel first, Mobileye can keep the technology in-country, where most of the company's operations are located.

According to Shashua, the project will turn Israel into a smart mobility hub that would draw multinationals. He sees the arrival of Russian multinational Yandex's taxi-hailing service Yango as the harbinger.

Yandex rolled out its service in Israel in December after several months of preparation, releasing a Hebrew-language version of its app.

He also expects that a supportive regulatory environment, to be set by the Israeli government, would prove a magnet to other players.

One homegrown company is not expected to benefit from these changes: Israel-based ride-hailing company Gett. A Volkswagen portfolio company, the Israeli market leader seemed like a natural fit for the initiative. Volkswagen poured $300 million into Gett in 2016 and participated in an $80 million round Gett announced in June.

For Shashua, the inclusion of homegrown Gett would have been superfluous.

"What do I need Gett for? Volkswagen supplies the vehicles, Champion Motors is in charge of the logistics, including charging stations, and the three of us together are building the service."

In December, German weekly Der Spiegel reported that Volkswagen substantially cut down on its investment in the company as a result of Gett's inability to gain market traction compared to rivals like Uber and Lyft.

In 2017, the company was acquired by Intel for $15.3 billion, in the largest deal Israel's tech industry has seen to date. Shashua stayed with the company, becoming a senior vice president at Intel while continuing to lead Mobileye, which became the corporation's global autonomous vehicle development center.

The day the deal was signed, Mobileye had 780 employees in Israel, Shashua said. It now employs 1,400 people in the country, 300 of them "poached" from Intel. Intended to solve some of the difficulties in obtaining skilled employees in Israel's tech industry, Shashua proudly says he was able to persuade Intel's engineers to make the move.

The company is now building a new campus in Jerusalem, intended to house 2,500 employees. They also plan to construct offices for several hundred employees in central Israeli city Petah Tikva.

According to estimates by the Israeli government, the country's technology sector needs around 10,000 more engineers. High demand is driving salaries up.

"Unskilled labor is easy to hire, but high quality, highly skilled employees are hard to come by," Shashua said.

A regular showstopper at the CES, Mobileye did not fail to attract attention this year. It announced its first foray into commercial data collection, via an agreement with Ordnance Survey, the national mapping agency of the U.K. The company's sensors will be installed in Ordnance's's vehicles and collect road and road infrastructure data, which will then be cross-referenced with existing geospatial datasets, and sold to businesses and service providers.

During the process of collecting mapping data for its vehicles, Mobileye realized the data it collects holds immense value for smart cities, mapping companies, and ventures related to energy, communication, and infrastructure, Shashua said.

"Car cameras see not just vehicles, pedestrians, lanes, traffic signals, and lights. They can also see objects like sewage lids and fallen trees." Information that can be harvested this way according to Shashua includes congestion at bus stops and real-time information on available parking spots. Both have considerable value to service providers.