Canada's Cannabis Engine Struggles to Climb Up Regulation Hill
After launching with much fanfare, the Canadian cannabis industry has found itself crumbling under mounting debt as a result of much red tape. The industry is also thirsty for skilled workers, with a recently opened college program attempting to meet that need
Canada shot the opening shot in the global cannabis regulation arms race. On October 17, 2018, Canada was the first G7 country to legalize cannabis, an act that seemed like the start of a chain reaction: Germany, the U.K., Denmark, Thailand, Greece, Australia, and New Zealand were only some of the countries that subsequently announced they would consider full or partial legalization while in the meanwhile approving medical cannabis. A year later, in October 2019, Canada took it a step further when it legalized the use of cannabis in edibles, concentrates, and topicals.

The Canadian government has forecasted that cannabis will account for 6% of the country's gross domestic product (GDP) by the end of 2019. But Canadians are no longer as optimistic, especially on Canada's east coast, which has less cannabis-based businesses than its west coast.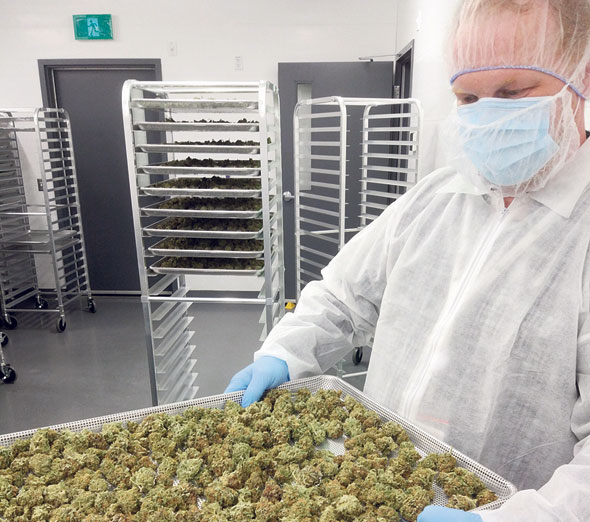 Darren Sarniak, Stevens Green's head grower. Photo: Tzally Greenberg

Cannabis cultivator Stevens Green, incorporated as 9869247 Canada Limited, invested 28 million Canadian dollars (approximately $21.11 million) in its growing facility, located in Stevensville, Ontario, CEO Jennifer Maccarone told Calcalist in a recent interview. The company's facility, which opened its doors in July, is the largest wholesale cultivation indoor facility in the area, and Stevens Green is already planning another one nearby at a similar investment. They are the only large company around currently, with the rest being mom and pop stores of local farmers that charge high prices to maintain their small-scale operations, Maccarone said.

The money for the facility came from several local investors who prefer to remain anonymous. It contains 10 growing rooms measuring 201 square- meters each. A tour of the facility reveals the enormous infrastructure needed to operate it: heating and cooling systems, lightbulbs for indoor farming, an automatic irrigation system, and more.

The company sees the future of the industry in specialization rather than in setting up operations along the entire supply chain, Maccarone said, adding that Stevens Green is growing a variety of strains for companies in return for a cut of the profit. At the moment, she said, its cut is very high because there are very few growers. Even so, it will take time until Stevens Green sees a profit, Maccarone said.

Darren Sarniak, the facility's head grower since July, said that the facility's operating costs are estimated at hundreds of thousands of Canadian dollars a month. Until recently, he worked at NYSE-listed Canadian cannabis producer CannTrust Inc., which lost its license in September after a Health Canada probe uncovered non-compliance violations in its facilities. While Stevens Green's facility has only recently started operations and has not yet returned the investment, the company would not operate were there are no profits to be made, Sarniak said.

When Canada legalized cannabis, it acted to protect the local industry by forbidding import for marketing and sales purposes. The Canadian National Statistical Agency has estimated that legal cannabis sales in the country will reach $7.2 billion by 2022. The industry is forecasted to reach a $4 billion turnover by the end of 2019—the same turnover as California, considered the largest cannabis market in the world. In 2017, illegal cannabis sales in Canada were estimated at $5.7 billion, and the reason the forecasts for this year are lower is that the legal age for cannabis consumption has been set to between 18 and 19, depending on the province. According to the National Statistical Agency, a third of cannabis users in Canada are between the ages of 15 and 24.

Francesco Caruso and Leonard Hogan, who own the franchise for the only east coast branch of adult-use cannabis company Choom, became franchisees after Ontario decided to permit only 25 cannabis retailers in the province. Their shop opened on June 15. If five years ago someone would have told Caruso that not only would he own a cannabis shop but that he would be making money off it, he would have said they were crazy, Caruso said.

Legal retail of cannabis is very absent in the area, according to Hogan, who said that Choom is a very well-known chain so when the opportunity for a franchisee came up they jumped on it. As the shop is located in Niagara Falls they benefit from both local buyers and tourists. The shop makes 600,000 Canadian dollars (approximately $452,400) a month on average, Hogan said, and he expects that number to grow as consumption in the country increases and the concept of cannabis tourism strengthens.

Hogan acknowledges that despite the public interest, opening a cannabis shop in Canada is not easy. Regulatory requirements bar some people from entering the domain, he said, and the pre-operation costs of setting up the store were around 500,000 Canadian dollars (approximately $377,000).

Cannabis in Canada started with a bang, but all cannabis companies are recording losses so far because regulatory demands are so harsh, Alan Unwin, dean of the School of Environment and Horticulture at Niagara College, told Calcalist. The regulation also changes from province to province, he said, as do the nature and costs of licenses and the legal buying age.

The biggest challenges, however, can be found in the provincial retail level, Unwin said. "This is especially true for provinces like Ontario, which today has only 25 stores that serve the entire province. Alberta, for example, has over 200 retail shops though its population is less than a third of Ontario's." For that reason the illegal cannabis industry still flourishes, he said.

Unwin also explained that the industry is still struggling to produce high-quality cannabis on a large scale. Recently, a large licensed producer shut down, laying off almost 200 people, he said. But those struggles are also the result of a new industry being born, he added, and things will improve with time.

Niagara College has recently started offering a one-year commercial cannabis production program. The college has a growing license for research purposes, Unwin said, and is hoping to one day open a shop to sell its own cannabis, as it does with beer, wine, honey, and vegetables grown by students. The cannabis lab, or "bunker" as Unwin calls it, is made of two repurposed containers. It is the only place on campus enclosed by fences.

"We established the program out of an understanding that on one hand, the industry needs skilled people, and on the other hand, students have a real interest in the industry," Unwin said.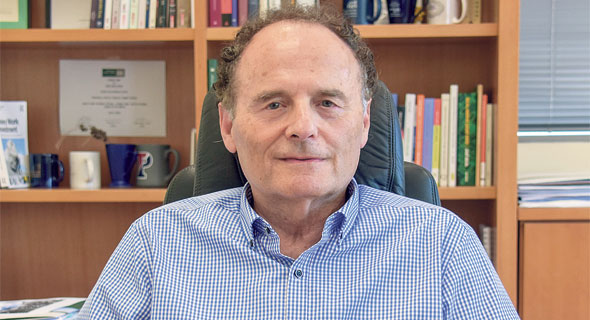 Itzhak Harpaz, president of Max Stern Yezreel Valley College. Photo: Oded Assaf, Yezreel Valley College

Calcalist toured the lab as a guest with Itzhak Harpaz, president of Israel-based Max Stern Yezreel Valley College, who arrived in Canada to close some loose ends regarding a cannabis-based collaboration the two colleges are discussing. In September, Yezreel Valley College announced it has opened a BSc program for cannabis studies, a first for Israel, which will offer courses in the growing and production of medical cannabis, as well as in medicine, pharmacology, economics, and law.

Cannabis is the industry of the future and Israel is a global leader when it comes to research and development, Harpaz told Calcalist. "In my opinion, the influence the industry will have on Israel's economy will be significant, and we, like Niagara College, want to train people for the industry."

That is why it is important for Yezreel Valley College to understand the model according to which Niagara College operates, Harpaz said. "We are already in contact with Israeli companies, studying the needs of the industry and adjusting the curriculum accordingly. The research aspect is also important to us and acknowledgment of the program as a BSc is key."

Unlike the Israeli cannabis industry, which is, at least for now, focused on medical cannabis, the Canadian industry is very much focusing on the recreational users. "It will be like the wine industry," Caruso said. "Every customer could choose his or her favorite cannabis strain."