Interview
Bonobo Was the Fastest Acquisition-to-Product in Salesforce's History, Says Exec
John Somorjai, Salesforce's executive vice president of corporate development and Salesforce Ventures, spoke to Calcalist about the company's expansion strategy
Voice technology was center-stage at this year's Dreamforce, the annual tour de force tech fair hosted in San Francisco by multinational cloud company Salesforce.com Inc. The company's research and development teams have been busy this year supplementing all apps built on the Salesforce platform with voice command technology. In talks and presentations throughout the week-long event, Salesforce's team of passionate marketing executives made ample use of a voice-activated smart speaker designed in the image of Einstein, the wild-hair genius after whom the company's artificial intelligence technology is nicknamed.
One of the new features introduced at the Dreamforce keynote presentation on Tuesday morning, attended by thousands and watched online by millions according to the company, was call-coaching. This technology was developed by one of Salesforce's most recent buys, Tel Aviv-based conversational AI startup Bonobo, incorporated as Bonobot Technologies Ltd.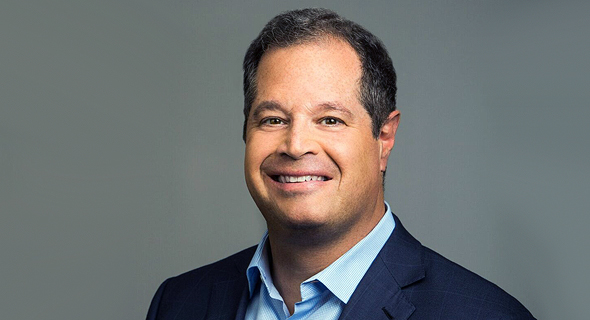 John Somorjai, Head of Salesforce Ventures. Photo: Salesforce
According to John Somorjai, Salesforce's head of corporate development and venture investment, Bonobo was the fastest acquisition-to-product in the company's history. Somorjai and his team first met with the Israeli startup in February, had drafted a term sheet by early April, and closed the deal in May.
In an interview held on Wednesday at Dreamforce, Somorjai told Calcalist that Salesforce had been zooming in on voice technology and conversational intelligence, a theme that has guided its investment and expansion strategy. In Bonobo's technology, Somorjai and his team recognized the potential to introduce a new product into Salesforce's already extensive offering, one focused on extracting insights from audio clips and training sales and customer service teams to become more effective over the phone.
"Their technology was built really well," Somorjai said. "We bought the company because we knew that we could integrate the technology really fast and that we could have a product out to market quickly."
"We knew that conversational AI was going to be important for our customers, and when we saw Bonobo for the first time all the lightbulbs clicked," Somorjai said. "It was one of those things: you know that this technology is important, you know that this is the way of the future, and then you find the perfect company, and with a wonderful culture that really fits in with Salesforce."
Company culture is not just a side note. Salesforce puts enormous efforts into nurturing a brand that comes across as employee-centric and morally superior. And for the most part, Salesforce puts its money where its mouth is, pushing for sustainability, gender equality, and diversity and donating services, work hours, and funds to a variety of woke organizations. To communicate its company culture, Salesforce borrows from the Hawaiian language, using terms like "the Aloha spirit" and referring to its employees as Ohana—family.
Somorjai said the company focuses a lot of energy on making incoming talent happy, helping the leadership of acquired companies carve a new path within the organization. "Usually, if you maintain the leadership the employees stay," Somorjai said. "What we've seen with our recent acquisitions—Click, Bonobo, Datorama, Implisit—is that in all these cases the leaders have gotten larger roles, we've invested more into their businesses, more into helping them grow their business in Tel Aviv, really spent a lot of time bringing their products to market so that they can see instant success."
According to Somorjai, Salesforce's investment philosophy is purely strategic. The company backs startups that are already partners of Salesforce, whether their product is built on the company's platform or designed to integrate with its technology. This is the strategy that guided Salesforce Ventures as it backed 375 companies in 22 countries over the past decade. Today, Salesforce has 260 active companies in its global portfolio, making it the second most active corporate investor in the world, surpassed only by Google.
When they invest, Somorjai said, Salesforce looks to companies that could help it expand its offering beyond its bread-and-butter technology, customer relations management (CRM). Right now, the company is very focused on AI. In addition, Salesforce is placing emphasis on augmented reality, especially in applications that address solving self-service problems without the need to dispatch technicians. The company is also looking into investment and acquisition opportunities in blockchain. "It is a very interesting area for us, especially in the context of supply chain validation and smart contracts," Somorjai said. Salesforce is also pursuing companies in the fields of financial services, healthcare, and public sector.
Somorjai first visited Israel in 2011, on a due diligence assignment ahead of the acquisition of Navajo Systems. Earlier this month, he was in Tel Aviv on one of his biannual excursions, when his visit was cut short by rising tensions in the area that saw rockets launched into central Israel. He did manage to see a "very interesting company" in the public sector vertical, he said, adding that he could not disclose any details until they "close the investment."
"We love doing business in Israel," Somorjai said. "It is a fantastic place for us to hire engineers." Salesforce's R&D operation in Israel currently employs 600 people, bolstered by the company's chain of local acquisitions.
Salesforce is also one of the most prolific corporate investors in Israel. "Startups are a window into innovation," Somorjai said, adding that they allow corporates to make sure they are not missing any important trends. "The thing Israeli companies need more than anything else is distribution, is go-to-market assistance and that is something they get from the big U.S. venture funds and from corporate investors," Somorjai said. "Israeli venture funds are wonderful to get a company off the ground and provide it with funding to build the product, but when you want to take the next step and really build a global sales team and go to market globally, that's when a corporate investor or a big U.S. venture fund is very helpful."
Somorjai describes Salesforce as a "very desirable investor." Leveraging the distribution channels of a large corporation helps startups build a global market in a much larger way, he said. "I think the reality is, if you are a startup who wants to sell to customers who are interested in buying enterprise cloud products, there is no better partner than Salesforce," he said. "So if a CEO doesn't want to take money from us, it's kind of like an IQ test."
The author was hosted by Salesforce at this year's Dreamforce event.