Leading Figures in Israeli Tech and Business Sectors Call for Prime Minister's Resignation
On Thursday, Benjamin Netanyahu became the first sitting prime minister to be indicted in a criminal case in Israel's history
Leading figures in Israel's tech and business sectors are calling on Israeli Prime Minister Benjamin Netanyahu to Resign. Netanyahu is the first sitting prime minister to be indicted in a criminal case in Israel's history, having been charged with bribery, fraud, and breach of trust in three separate corruption cases on Thursday.

Netanyahu's alleged transgressions are yet another malady plaguing Israel's political system, which had already seen two divisive, costly, and ultimately inconclusive elections in 2019. Should Netanyahu resign—though he had made no indication that he intends to do so—it could be instrumental in helping Israel avoid a third, economically devastating election in the coming months. Israel has been governed by an interim government with limited power since April.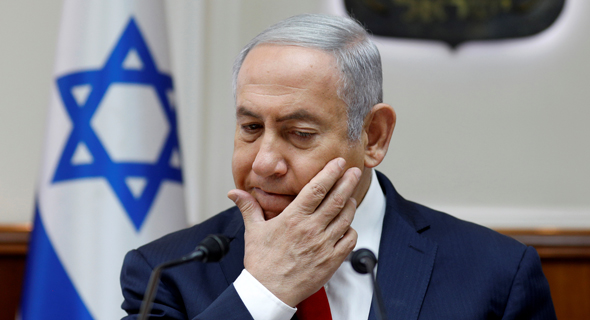 Israeli Prime Minister Benjamin Netanyahu. Photo: Reuters

On Tuesday, more than 70 prominent Israeli businesspeople signed a letter addressed to Israeli lawmakers, calling on them to take immediate action to prevent a third election, act to curtail incitement against the country's governing and judicial bodies, and establish a new, "uncorrupt" government.

The undersigned sent the letter in the name of economic growth and financial well-being, saying that in order to prosper, Israel must have a sturdy democracy respectful of its independent judicial system and press.

Among those who signed the letter are Mellanox co-founder and CEO Eyal Waldman, Yehudit and Yehuda Bronicki, founders of geothermal energy company Ormat Technologies Inc., Alpha Omega co-founder and owner Reem Younis, social business entrepreneur Hana Rado, and entrepreneur and venture capitalist Dov Moran.

"We are appealing to members of the Israeli parliament in an attempt to avoid a third consecutive election, and so that we do not lose fate in the judicial system," Yehudit Bronicki told Calcalist Tuesday. "It is economic suicide—a functioning judicial system is one of the first things an industrialist asserts ahead of investing in a foreign country."

On Wednesday, another group of local tech luminaries issued a public appeal addressed to the Israeli prime minister, urging him to resign. The letter, initiated by Tel Aviv-based venture capital firm Qumra Capital, was signed by the firm's three partners—Sivan Shamri Dahan, Boaz Dinte, and Erez Shachar. Mellanox's Eyal Waldman also signed the appeal, as did Aviv Shapira, co-founder of augmented reality startup XTend Reality Expansion Ltd., Omri Palmon of data storage startup WekaIO Inc., venture capitalist Zvi Limon, and others.

"We will not allow Israel and its democratic institutions to become collateral damage in the prime minister's personal fight for political survival," the letter read.