Congestion Tax Is the Best Solution for Tel Aviv Traffic, Says OECD
An OECD report commissioned by the Israeli finance ministry says congestion charges could help boost the economy and support better public transportation
Traffic congestion in the greater Tel Aviv area is notoriously bad, and it is only set to get worse, dragging Israel's productivity and quality of life down with it. Congestion charges are the most immediate and accessible solution, according to an OECD report published Sunday that was commissioned by the Israeli Ministry of Finance's department of budgets.

Congestion charges, which penalize drivers for entering city centers during rush hours, are implemented in many European cities. The idea of levying one on Tel Aviv is not new, with the budgets department pushing it for some time now with no success. The main difference is that most European cities have an extensive public transportation system that operates almost every day of the year, whereas Tel Aviv has no official service during weekends and holidays. In Israel, the initiative was repeatedly blocked by different transportation ministers who stated congestion charges would constitute a new tax that will just encumber the public.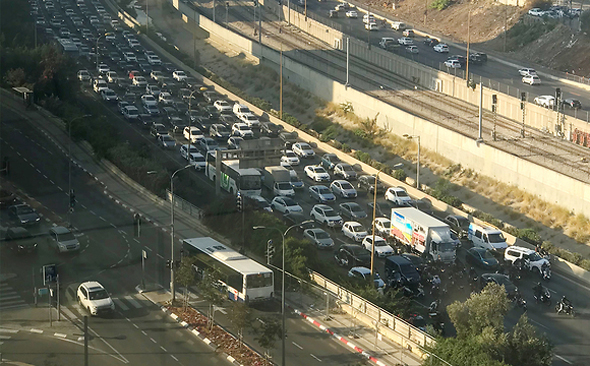 Traffic congestion, Tel Aviv. Photo: Elad Peleg

The current Israeli transportation minister, Bezalel Smotrich of right-wing religious party Tkuma, is against the move, insisting that if a congestion charge is levied the public should be reimbursed through vehicle licensing discounts. The finance ministry opposes such a plan as it would negate the effect of the congestion charge.

According to the OECD report, a congestion charge will make an immediate difference, even assuming only 5% of drivers will change the extent of their use as a result of a system that would reward drivers who avoid the city during peak hours. The report's authors state that Tel Aviv could be surrounded by several "rings" of taxation, with the proceeds bolstering the economy and enabling investment in public transportation.

The report does make clear that congestion charges will remain just another fine unless Israel will improve public transportation, promote the use of two-wheelers, and work to increase parking fees in the city to make car use less worthwhile.