Raise a Toast to Leftover Bread Beer
A Kibbutz bakery has found a new use for leftover bread: brewing it into delicious red ale
Letting stale bread go to waste can feel pretty crummy, but one Israeli bakery is giving leftover bread a new purpose, by brewing it.

Elchanan Bread Bakery in Kibbutz Mishmarot has been looking for clever ways to reduce its food waste, turning leftover baked goods into bread pudding and granola, and donating access bread to nearby kibbutzim to supplement their animal feed. Recently, the bakery has been using its excess sourdough bread to make beer, mixing it with malt and hot water to create a red ale with an alcohol content of 5%.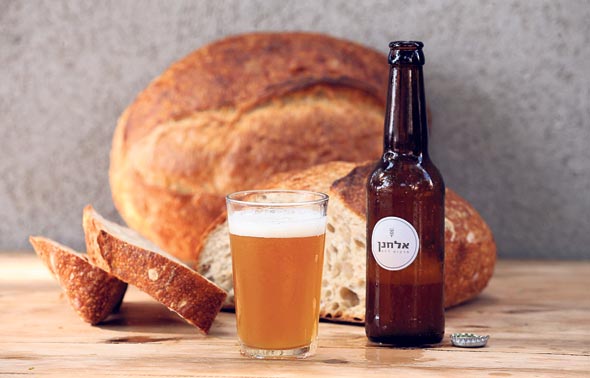 Elchanan Bread Bakery's bread beer. Photo: Elad Gershgoren

"You can't just use bread as a raw material for beer production because you need active enzymes, so I use about 50% bread and 50% malt," Eldad Shmueli, the chief baker at Elchanan, explained in a recent interview with Calcalist. "It took me almost a year of experimenting until I came up with a beer that is truly delicious," he said.

Shmueli currently sells several dozens of his leftover bread beer exclusively at the bakery. "I am not running a brewery," he said, adding that he would welcome collaboration with one.