Navigation App Waze to Add Gas and Parking Payment Features
The popular app intends to allow users to pay for various services via partnerships, aiming to become a more encompassing app for drivers
Google-owned mobile navigation app developer Waze intends to add various payment features via partnerships during 2020, aiming to become a more encompassing service for drivers, according to one person familiar with the matter who spoke to Calcalist on condition of anonymity. While Google has Google Pay, market estimates are that Waze will not develop its own payment system but rather use third party services or direct users to other apps.

A spokesperson for Waze said the company does not comment on rumors but is always looking to improve its customer experience offering.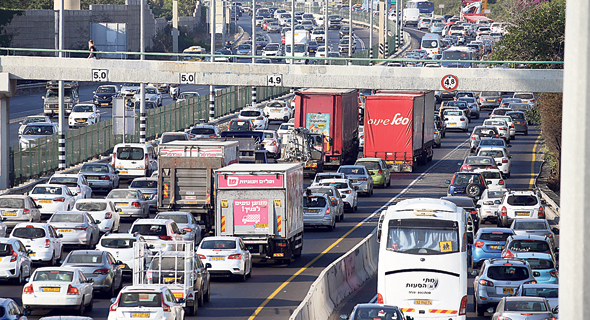 Traffic jams. Photo: Yariz Katz

Among the partners Waze is considering are parking payment apps Pango and Cellopark, and various services that enable payments in gas stations and gas station-based convenience stores, the person familiar with the matter said. These partnerships will enable Waze to operate using several financial models, including advertising and affiliate marketing commissions.

It is still unclear whether Waze is considering collaborations just in Israel or for all markets.

If the move proves successful, it could encourage the company to add more expansive collaborations, such as the payment of tolls and parking tickets.

Waze is Israel's most popular navigation app, though the company does not reveal the number of its users. The decision to add payment services is another attempt to monetize the app. Currently, the company is banking on revenues from its carpool service, which enables users to offer rides to other users, with Waze receiving a cut from the fee passengers pay the driver. In Israel, at least, the feature has not proved very successful yet, with market estimates placing the number of users at a few thousand people, though the app could have gotten a boost from the recent addition of high occupancy vehicle (HOV) lanes to highways in central Israel.

Waze recently signed a collaboration agreement with Israel-based Moovit App Global Ltd., which develops a free mobile navigation app that offers real-time public transit information. Under the agreement, Moovit users planning a route are now offered the option of carpooling with a Waze driver. According to Waze's website, many companies encourage employees to use the service, with prominent names being parent company Google, Nasdaq-listed network and cloud security company Check Point Software Technologies Ltd., and Nasdaq-listed billing company Amdocs Inc.

Waze was acquired by Google in 2013 for $1.1 billion and it has since operated as an independent division. Noam Bardin, formerly Waze's CEO, has remained at its head as a Google vice president. The company employs 500 people, 300 of them in Israel.