Interview
We Created Dozens of New Millionaires, Say Armis Co-Founders
On Monday, New York venture capital firm Insight announced it agreed to buy the Israeli IoT cyber company for $1.1 billion
Israeli IoT security company Armis Inc.'s $1.1 billion acquisition by New York-based venture capital and private equity firm Insight Partners earlier this week has minted dozens of new millionaires, according to Armis co-founders, CEO Yevgeny Dibrov and chief technology officer Nadir Izrael. The two spoke to Calcalist on Tuesday, a day after the acquisition was announced, confirming an earlier report by Calcalist.

The two entrepreneurs were visibly excited. "We do not sleep much, and we did not sleep the night before signing the deal, and not the night after," Izrael said. "In recent months, we have received multiple investment proposals and several companies wanted to buy us, and we did not want to sell because we love what we have here," he said.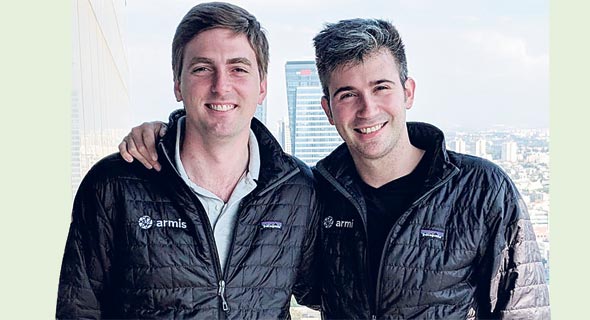 Armis founders Yevgeny Dibrov and Nadir Izrael. Photo: PR

Founded in 2015, Armis provides information security software for enterprise IoT systems, analyzing and classifying devices and their behavior to identify risks and protect information and systems. The company employs some 240 people in Palo Alto and Tel Aviv.

"Insight is very aggressive, much like us, and we liked it," Dibrov said. According to him, they got to know Insight ahead of Armis' recent funding round, led by Sequoia in April 2019, in which it raised $65 million according to a company valuation of $400 million. "Insight wanted in on the round, was super aggressive with its proposals, and we were impressed with how it worked," Dibrov said. "We asked Sequoia to include Insight in the round. It created tremendous value and gave us a big push."

According to Dibrov, a month after that funding round closed, Insight came back with an additional investment offer, which they declined. In late October, it returned, this time with a bigger offer. Armis declined again. "Then, Insight founder Jeff Horing flew in and told us about the firm's new fund and his plans and the potential," Dibrov said. "Jeff said 'if I really believe in you why shouldn't I be the main stakeholder and be part of something big?' and we really liked that."

According to Izrael, following the acquisition Armis will continue to operate as an independent startup. "We are here to stay," he said.

Before he founded Armis, Dibrov was one of the first hires at cloud security startup Adallom Inc., bought by Microsoft in 2015 for $320 million. "When Adallom was bought, our clients were flooded with emails from our competitors, who knew we were at our most vulnerable period," he said. "When you are acquired by a giant, you have no idea what will happen to your company, who will you report to, who will be your clients," he said. According to him, the fear of being bought too early and of the technology suffering because of it, is quite prevalent. "Clients who buy technology for millions of dollars take a chance on a company and they do not want to see that company sold too early," Dibrov said.

"A lot of doors open with a fund of Insight's caliber," Izrael said. Next year, he said, the company will recruit 200 employees. To him, the deal spells opportunity for developing new products and thinking strategically about the market. "We are going to build a big-league company," he said.