Insight Partners Announces $1.1 Billion Armis Acquisition
Calcalist first reported that the companies were in advanced negotiations on Monday morning
On Monday, New York-based venture capital and private equity firm Insight Partners confirmed it has agreed to buy Israeli IoT security company Armis Inc. according to a company valuation of $1.1 billion. Calcalist first reported that Armis was in advanced negotiations with an unknown buyer on Monday morning, citing sources. Later that day, Calcalist named Insight Partners as the interested party, again citing sources.

Insight participated in Armis' most recent funding round in April 2019, in which it raised $65 million according to a company valuation of $400 million.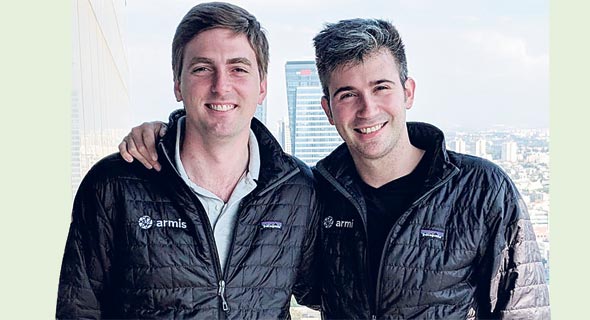 Armis founders Yevgeny Dibrov and Nadir Izrael. Photo: PR

As part of the deal, Insight will acquire the company for cash, with participation from CapitalG for $100 million and rollover from certain existing stockholders. Armis will continue to operate independently and will be fully managed by its two co-founders, CEO Yevgeny Dibrov and chief technology officer Nadir Izrael. The company said it expects to double its workforce in the coming year. Today, it employs 250 people, 130 of them in Israel.

Founded in 2015, Armis provides information security software for enterprise IoT systems, analyzing and classifying devices and their behavior to identify risks and protect information and systems. The company's customers include New York-listed foodservice company Sysco Corp., Samsung, and New York-listed pharmaceutical company Allergan PLC.