Tel Aviv's Light Rail Just Needs More Time and an Extra Half a Billion Shekels
Completion is now estimated for the second half of 2022; the delays, as well as the need for additional budget, are for the completion of the electric, signaling, and communication systems, according to people familiar with the matter
The planned Tel Aviv light rail will take longer, cost more than originally expected. Israeli government agency Metropolitan Mass Transit System Ltd. (NTA) is expected to require an additional sum of between NIS 400 million and NIS 500 million (approximately $115 million-$144 million) in order to complete Tel Aviv's light rail line, according to several people familiar with the matter who spoke to Calcalist in condition of anonymity.

Called the Red Line, Tel Aviv's planned 24-kilometer-long route is the first in a network of light rail lines that will connect the city with neighboring towns in its greater metropolitan area. The line's approved budget currently stands at about NIS 17 billion (approximately $4.9 billion).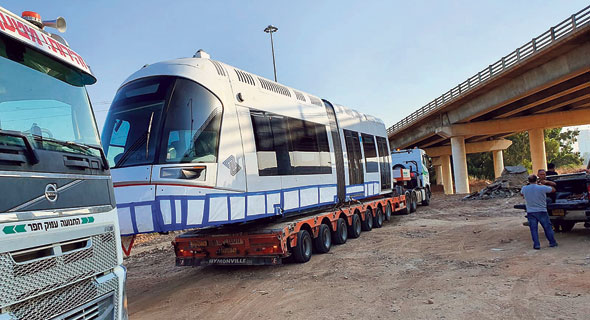 An NTA light rail cart. Photo: NTA

According to the people, NTA executives met with government officials last week to present their progress ahead of a meeting with Israel's Minister of Transport Bezalel Smotrich, scheduled for this week. During the meetings it was also estimated the project will not be completed by its current deadline of October 2021, the people said.

A spokesperson for NTA told Calcalist the agency is currently examining the needed actions and timeline to begin operating the line. Doing so, significant information was revealed, which will soon be brought to the attention of NTA's board of directors as well as the minister, they said. NTA will take the necessary steps to complete the project in a timely matter, they added.