Interview
CEO of Internet Privacy Company Kape Sets His Sights on a $1 Billion Market Cap
Ido Erlichman, the Israeli CEO of London-listed Kape, belives the key to online privacy is better awareness
At 39 years old, Ido Erlichman, the Israeli CEO of London-listed online privacy company Kape Technologies PLC, has big plans. In five years and perhaps sooner, Kape will be an industry leader, serving hundreds of millions of paying users, and traded at a market cap of over $1 billion, Erlichman said in a recent interview with Calcalist. As of market close Tuesday, Kape was traded at nearly GBP 250 million (approximately $325 million).

Kape was founded in 2011 as Crossrider Advanced Technologies and initially focused on online advertising. In 2012, it was acquired by Israeli-born businessman Teddy Sagi's e-commerce company Marketcom Technology Ltd. Sagi paid $37 million for a 73% stake in Kape, which had since been reduced to 55.9% following the company's 2019 merger with Colorado-based LTMI Holdings, whose main asset is online privacy company Private Internet Access (PIA).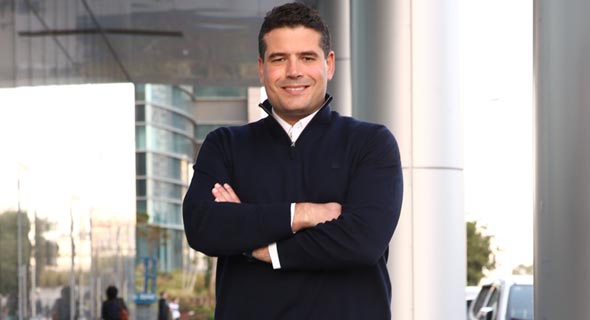 Ido Erlichman. Photo: Orel Cohen

After listing on the London Stock Exchange's AIM market in 2014, Kape board decided to make some changes. Since Erlichman took the helm in 2016, the company's stock rose by 480%. For the first half of 2019, Kape reported revenues of $29.9 million, a 24.2% increase year-over-year, and an EBITDA of $5.8 million, up from $4.7 million in the first half of 2018. The company had $36.4 million in its coffers as of the end of June 2019.

Kape operates in 160 countries and employs 300 people, 70 of them in its Israeli research and development center.

Erlichman said he was hired to lead the company's transition into the growing market of privacy protection and web security, in an effort to increase the company's worth, improve its profits, and establish it as a subscription-based company with monthly recurring revenue (MRR).

"In the second half of 2016, we recognized the first signs of the European Union's General Data Protection Regulations (GDPR) and the mounting criticism of the ways in which companies like Facebook and Google use data gathered from users," Erlichman said. "We also noticed that most large web security companies were based on a freeware model that forced them to monetize on user data and targeted ads to create revenue," he added. Kape saw this as an opportunity to disrupt the industry with a different model, based on paying subscribers whose privacy and data are protected, he said.

At the same time, consumer web companies, such as Netflix, helped pave the way, by teaching the market that paying for a high-quality product is better than getting it for free in exchange for forgoing privacy and a sub-par ad-infused experience, Erlichman said. According to him, Kape now has 2.5 million paying users, 60% of them from the U.S., with an 85% renewal rate on its annual $50-$70 subscriptions.

With several acquisitions of smaller companies under its belt, Kape is still a medium-sized company. "We are just starting out," Erlichman said, explaining why the company is not looking to be acquired. In the next three years, Kape might triple its number of clients and potentially undermine the market hold of traditional anti-virus companies like Avast Software, currently traded at GBP 5.2 billion (approximately $6.5 billion), he said. "We want to be the privacy company, like Google is the online search company and Facebook is the social media company."

Internet companies have the practically unlimited ability to track users, without their consent or even awareness, Erlichman said. According to him, while some people are fine with giving up their privacy in exchange for services, what Kape does is offer tools to help them evaluate and decide for themselves if and when the exchange is worth it.

As examples for misuse of the trust given to internet companies by consumers, Erlichman mentions the practice of selling health-related search histories to insurance companies who would then increase clients' premiums, or a pregnant teenager that looked for information on her condition online without telling her parents, but started receiving baby product-related pamphlets to the family's home. "We want people to be able to roam the digital world freely, so that they can use it to their advantage, without being used as well," he said.

According to Erlichman, Kape does not track its customers or gather information on them, instantly deleting all data instead. "Even if a government entity was to request this information, we could not help, even if we wanted to," he said.

Most of Kape's clients are young people, aged 15-35, which is a testament to the growing awareness of privacy concerns, Erlchmann said. For this reason, Kape avoids using ads and prides itself on the fact that over 50% of users arrive organically, through word of mouth or by recognizing its two strongest brands, German subsidiary CyberGhost SA and the aforementioned Private Internet Access VPN service.