Israeli Not-For-Profit Organization Ogen Will Loan $70 Million To Nonprofits Waiting on Government Money
Israel's lack of conclusive elections and the resultant political limbo are delaying state funds promised to local nonprofit and not-for-profit social organizations
Israeli not-for-profit organization Ogen-Social Loan Fund is putting up $70 million as bridge loans for non-profit organizations that have yet to receive promised state funds due to Israel's current political limbo and lack of government, according to Ogen Chairman Ofir Ozeri. Ogen aims to provide low-income people with credit at low interest rates. The sum it is offering now is 10% of the sum the government had previously committed to pay by the end of January 2020, and Ogen will offer the loans with a non-indexed fixed interest rate of 4.5%-5.5% and no demand for deposits or financial securities, according to the organization.

According to Ogen's data, some 36,000 nonprofit and not-for-profit organizations operate in Israel today. Of those, 3,500 provide services to the state, and 8,000 provide services to local municipalities. On Wednesday, many of these organizations banded together to send a letter to the Ministry of Finance, demanding the release of $700 million-worth of promised funding. Those include funds for activities performed in 2019 as well as down payments for 2020.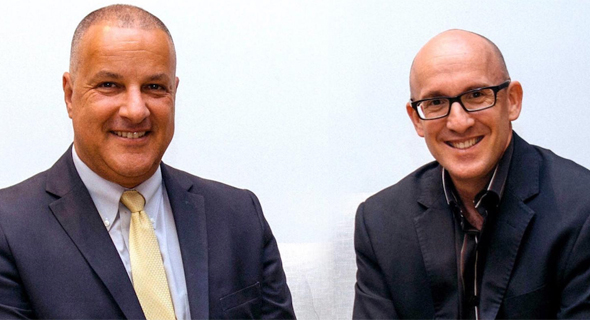 Ogen Chairman Ofir Ozeri (left), CEO Sagi Balasha. Photo: Dana Tamari

Credit is the only breathing line nonprofit organizations have until the government provides the promised funds, Ozeri told Calcalist. The current political uncertainty increased the number of petitions from nonprofit organizations, and the goal of the loans is to enable those organizations to continue providing at-risk populations with needed support until the government funds arrive, he said.

So far, 48 organizations approached Ogen, asking for credit worth on average NIS 650,000 (approximately $188,000). The organization is also currently working to devise another credit avenue that will enable organizations looking to develop independent income sources to receive growth credit, similar to the credit offered to small businesses.

Ogen works to make credit more accessible in Israel via two funds. The first, which offers no-interest loans, holds NIS 180 million (approximately $52 million) raised from donors around the world. The second, which holds NIS 70 million (approximately $20.25 million), offers credit at low interest rates to small businesses, low-income individuals and families, nonprofits, and people looking to buy their first house.

Ogen is looking to turn the latter fund into a social bank, and has received an expanded credit provider license Israel's capital market regulator in September.