Nearly Half of Israeli Arab Academics Avoid Applying for Jobs at Predominantly Jewish Companies, Research Shows
According to the study, conducted by The Hebrew University's aChord Center, Arab candidates are afraid of encountering racism or failing to get the job for non-professional reasons as well as of the way working for a Jewish company may be perceived by their own community
While the Israeli tech sector is slowly upping its efforts to diversify its workforce to fight an ongoing talent crunch, a new study shows members of Israel's Arab minority tend to avoid predominantly Jewish companies altogether.

According to the study, conducted by The Hebrew University of Jerusalem's aChord Center, which specializes in the social psychology of intergroup relations, 45% of Arab academics do not apply to Jewish companies, mostly for fear of encountering racism or failing to get the job for non-professional reasons. Of the 400 Arab academics questioned, 65% also said they feel their own community would have trouble accepting them working for such a company.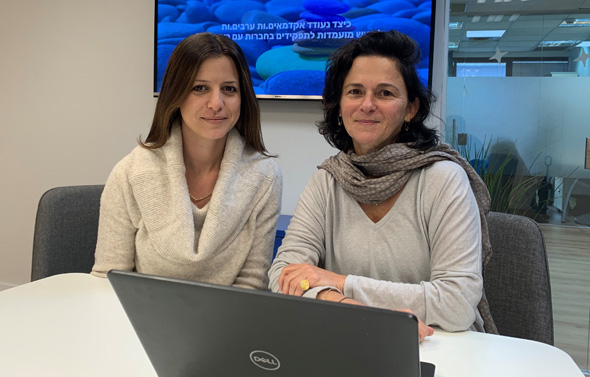 AChord Center's Sama Safouri (left) and Oranit Ramati Dvir. Photo: PR

AChord's research attempted to examine the psychological obstacles—on top of objective obstacles, such as place of residence or infrastructure, and cultural obstacles, such as worrying that a predominantly Jewish workplace will not provide a good working environment—that are preventing Arabs from applying to jobs, Oranit Ramati Dvir, director of the employment program at aChord, told Calcalist in an interview.

"If you do not feel like you have a chance to get the job, if you think you would not be happy with the corporate culture or that the people around you would frown upon your choice to work at a company with a Jewish majority, then you are much less likely to apply," Sama Safouri, employment project leader at aChord, said.

What the research shows is that the challenge of reaching Arab candidates is not just a technicality, but the result of an acute trust crisis between the Arab minority and the Israeli industry that has pushed it aside for decades, Nawa Jashan Batshon, CEO of Co-Impact, an organization dedicated to promoting Arab employment in Israel, said in an interview.