You Cannot Make the World a Better Place at the Expense of Good Returns, Says Cleantech Investor
Jack Levy, founding partner at Israel Cleantech Ventures, which rebranded as More earlier this week, told Calcalist he believes the biggest impact comes from profitable market leaders
You cannot make the world a better place at the expense of good returns, according to Jack Levy, founding partner at Israel Cleantech Ventures (ICV), which rebranded as More earlier this week. "We started out as a cleantech firm and we still do that, but we wanted to establish ourselves as a long-standing brand, regardless of trends," Levy said in a recent interview with Calcalist.

The rebranding is a true revolution for the fund that, according to its partners, has expanded its investments over the past decade beyond just cleantech. It is, however, surprising at a time when climate change is set as a global top priority. Investment in renewable energy, for example, amounted to $282.2 billion globally in 2019, according to research released by Bloomberg NEF last month.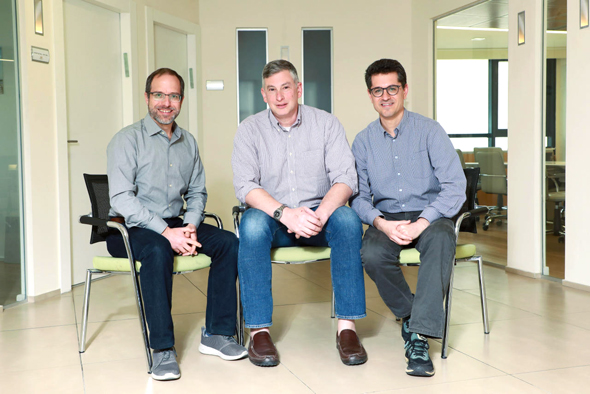 Glen Schwaber (left), Meir Ukeles, Jack Levy. Photo: Dana Koppel

Founded in 2006 by Levy, Meir Ukeles, and Glen Schwaber, More has around $280 million in assets under management. According to Ukeles, the new path was chosen after the completion of the fund's latest round. It is only natural to reexamine your situation during the process of raising funds, it is an act that requires self-criticism, he said.

"When you are just starting out it is important to let the world know what you are about, but now, it is more important for people to understand who we are and how we work, especially when we are talking to entrepreneurs," he said. There is no doubt as to the importance of green innovation and More does not intend to abandon this industry, he added.

"It would have been great if the world was a better place, but our commitment is towards creating high returns," Ukeles said.

Among More's portfolio companies is Amsterdam-based Nova Lumos Netherlands Holding BV, which sells off-grid solar power kits to customers in Africa. One of the reasons More chose Lumos is that, unlike some of its competitors, it did not go down the impact path, Ukeles said. Impact projects are often willing to sacrifice technological and business excellence on the altar of the greater cause, he said.

The biggest impact comes from capital aimed at creating market-leading companies, Levy said. "It only works when both the entrepreneurs and the investors want to build a profitable global company," he said.