Opinion
Enlivex Leveraged Coronavirus to Get Money out of Shareholders
The company announced on Monday a plan to increase the manufacturing capacity for its experimental drug "in preparation for potential requests for treatment of coronavirus patients" and used the resulting stock boost to raise a direct offering of $8 million
Israel-based immunotherapy company Enlivex Therapeutics Ltd. has leveraged the rising panic over coronavirus to get its payday on the stock market. On Monday, while the largest stock exchanges in the world tipped to red—as did the Tel Aviv Stock Exchange—Enlivex announced an intention to initiate a plan to increase the manufacturing capacity for its experimental drug Allocetra, "in preparation for potential requests for treatment of coronavirus (COVID-19) patients who are hospitalized with diagnosed organ dysfunctions or failures related to coronavirus" in Israel.
Following the announcement, Enlivex's stock jumped by over 70% on Nasdaq by mid-trading day, reaching a price per share of $16.3, which gave it a market capitalization of almost $170 million. The company made quick use of the jump to raise $8 million in direct offering from institutional investors at $8 per share. Following this move, Enlivex's stock crashed, and the company closed Monday at $8.73 per share, giving it a market capitalization of a little under $90 million. Clinical-stage Enlivex needed the funding to fill its dwindling coffers.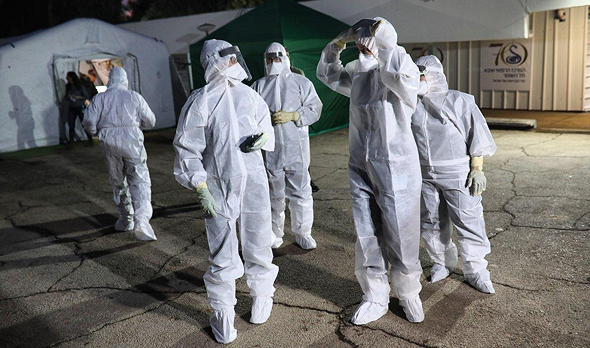 Coronavirus. Photo: Tal Shahar
It is still unclear whether the participants in the offering will benefit. What can be certain is that the offering diluted existing shareholders' stakes and was made following an announcement about increasing the manufacturing of a drug that is still far from market-ready.
Allocetra is intended to treat sepsis-associated organ failure. The syndrome is characterized by a cytokine storm—a systemic inflammatory response that causes an overproduction of immune cells and can result in life-threatening consequences and even death. According to Enlivex, the pathophysiology of sepsis-associated organ failure is similar to that of the novel coronavirus. Allocetra uses blood collected from patients to create a mechanism that damages cells using apoptosis, a form of programmed cell death. When the blood is reinfused, the macrophages absorb the dead or dying cells, leading to a series of signals that relax the immune response.
If the drug does decrease death from sepsis significantly, it would constitute a medical breakthrough, but there are still major doubts regarding its capabilities. Enlivex is currently only nearing the end of its phase I clinical trial for the drug, and receiving final approval from the U.S. Food and Drug Administration is a years-long process. In June 2019, Enlivex reported that treatment of the first three patients was successful, and received approval to add three more patients to the trial. After the successful treatment of those patients was announced in August, the company received approval to add four more patients.
Even though Enlivex announced it has recruited all four new patients by mid-November, there had been no updates since—not a good sign. A successful treatment course would have been announced by now.
At the same time, Enlivex's funding started to run out. By the end of September 2019, the company had only $13.5 million in its coffers. A November funding attempt was canceled due to low subscriptions. And then came the coronavirus.
One of the causes of death for those infected with coronavirus is sepsis. In that sense, Enlivex's announcement insinuating it is increasing its manufacturing capabilities because the drug can potentially be used to treat coronavirus patients is not a lie. But it is doubtful Israel will choose to use an experimental drug that was only tested on 10 patients and was only reported successful on six. Furthermore, it is a drug that requires the drawing of infected blood, the handling and processing of that blood, and its reinfusion, in a process that could reduce immune response—useful to prevent damage from sepsis, but perhaps detrimental to the body's ability to deal with the virus itself. While sepsis is a condition that kills some 10 million people a year globally—meaning an effective drug will have a much larger market than just for this specific virus—hospitals do not tend to stockpile a drug that is still so early in the clinical trial stage—and there is no reason the situation in Israel will be different.
Enlivex's announcement, therefore, is probably an act of public relations, intended to facilitate the fundraising rather than provide investors with essential information. Another problem with the timing of the offering is that while Enlivex probably has much information about the condition of the four last patients treated with its drug, the institutional investors that invested in the offering did not receive that essential information, creating an asymmetry between the company and its investors.
Enlivex is selling a dream that, if achieved, could save many lives. If the trials fail, however, its shareholders will see their investment going down the drain. The way the company acted earlier this week may have increased its cash reserves, but it does not do credit to the company and its owners.