Opinion
Whatever the Results of Monday's Election, Israel Must Pass a Budget for 2020
As Monday's election is unlikely to bring an end to Israel's political limbo, it is becoming apparent that a state budget might need to be abnormally passed without an elected government in place
According to the most recent surveys, Monday's election is unlikely to bring an end to Israel's political limbo. If so, a state budget might need to be abnormally passed without an elected government in place.

This election is the third Israel has undergone in a little under a year. Both the April and September campaigns ended without either of the two contenders for the prime minister's seat—right wing Likud party's Benjamin Netanyahu and centrist party Blue and White's Benny Gantz—managing to secure a majority coalition.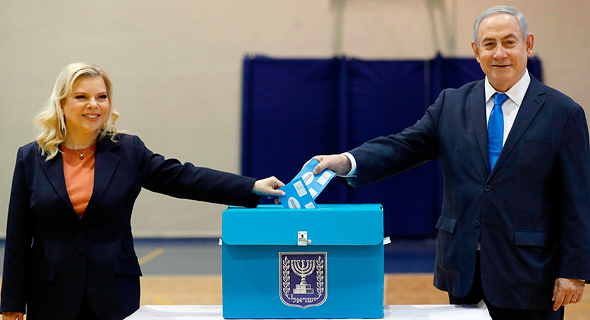 Benjamin and Sara Netanyahu voting. Photo: AFP

Since the Israeli parliament, also known as the Knesset, voted to dissolve itself in December 2018, the country has been run by an interim government with limited authority. One of the side effects of this situation is that a budget for 2020 had yet to be shaped, not to mention approved. This means many government offices have been running on the fumes of the 2019 continuous budget.

The state's continuous budget currently stands at just NIS 400 billion (approximately $114.5 billion), as it is based on 2019's NIS 397 billion (approximately $114.4 billion) budget to which NIS 3 billion (approximately $864 million) were added to account for shifts in the consumer price index.

However, while according to Israel's fiscal policy, the 2020 budget should have amounted to NIS 412 billion (approximately $118 billion), the total commitments taken on by government agencies for the year already amount to NIS 420 billion (approximately $120 billion). This means that even when a budget is finally approved, it would need to come with a line of harsh cuts.

Operating under a continuous budget is not just a matter of not having enough money in the state authorities' coffers. What is truly hindering the operation of government offices is the fact that money cannot be moved around between departments and projects, putting crucial development projects on hold.

The main difficulty in passing a budget without a ruling coalition is not legal but political. Passing a budget under these conditions would require the support of a majority of Knesset members. A new budget based on that of 2019 would lead to massive cuts and likely also to raised taxes, and so it is unlikely that Likud's opponents will be willing to support it and get Netanyahu out of the jam. Israel's deficit, which could amount to 4.2% of its gross domestic product if no immediate steps are not taken, is not solely the result of a global economic slowdown or the spread of the coronavirus. It is first and foremost a result of the actions taken by Netanyahu's previous government. Should it come to that, approving the 2020 budget ahead of a fourth election would benefit the market but could prove to be an act of political suicide by Gantz and his Blue and White party, which will be held at least partially responsible for the inevitable cuts.

The majority required to pass a budget under an interim government will need to be determined by Israel's Attorney General Avichai Mandelblit and the Knesset's Legal Advisor Eyal Yinon, likely in coordination with the Ministry of Finance's legal advisor Asi Messing. While passing a budget under normal conditions only requires the majority of votes on the matter in question, Yinon will likely require a special majority of over 60 or even 90 parliament members.

As far as Mendelblit is concerned, in approving any action by an interim government he must take into account three criteria: does the act constitute propaganda; to what degree does the act tie the next government's hands; and the obvious lack of public support for an unelected government.

Since, as already established, passing the budget would come with extensive cuts or taxation, it is unlikely to be legally perceived as propaganda. Should a fourth election occur, it would only be in about six months, meaning that any government formed following it will be too late to discuss the 2020 budget and will move on to approve next year's budget. So, approving the budget for 2020 will not have much of an effect on a future government. Should a special majority be required, the lack of public support of the specific government would become irrelevant.