Female Employees in Israel Still Make Significantly Less
A collection of data from reports released ahead of International Women's Day Sunday reveals a glum picture of gender inequality in the Israeli workforce
Over 96% of candidates for human resources positions, both executive and junior level, are women, according to a report prepared for Calcalist by Tel Aviv-based job placement company Hever Human Capital Ltd. ahead of International Women's Day Sunday. The report, for which Hever examined the candidates it referred to different positions in 2018-2019, also revealed 85% of candidates for accounting positions were women.
The report also showed that the number of women plummetted higher up the ladder. While there were significantly more women applying for the position of payroll accountants and there was a similar number of men and women applying for economist and accountant positions, when it came to the position of chief financial officer, the report showed 80% of candidates were male. Engineering and industry positions also showed mostly male candidates.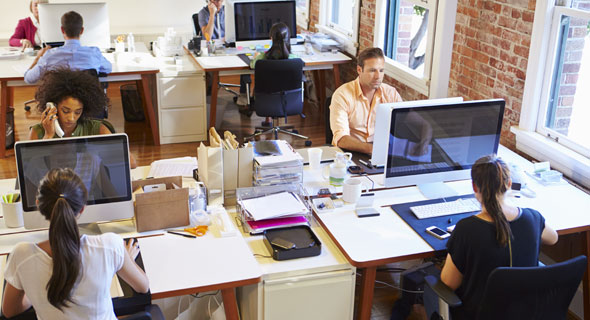 Women in Israel still earn less than men (illustration). Photo: Shutterstock
The number of female executives in Israel decreased from 33.8% of all executives in the country in 2018 to 30.3% in 2019, according to data from Israel's Central Bureau of Statistics (CBS). However, the number of women employed in tech increased to 35.2% of tech employees in 2019, compared with 34% the year before, the data showed.
The country's best earners, according to the CBS, are information and communications technology professions, where men make an average of NIS 24,658 (approximately $7,000) a month while women make just NIS 16,594 (approximately $4,760). People in the education professions, 76.1% of whom are female, make an average of NIS 9,923 (approximately $2,850), with an average wage gap of about NIS 2,000 (approximately $570) in favor of male employees.
As of 2018, women in all sectors made on average 84% as much as men per hour, according to a report released Sunday by non-partisan Israeli policy analysis organization Adva Center. This number has shown only a slight change for the better from 82.7% in 2008, the report showed.
The state of women in tech is not much better. According to a survey published Sunday by Israeli tech and computer media outlet People and Computers Group, around half of the 145 tech executives questioned admitted women occupy less than 25% of their companies' tech positions. An additional 40% of those questioned said women account for less than half of their companies' tech positions.
Of those questioned, 71% said their companies had less than 25% female executives and 25% said that between a quarter and a half of their companies' executives were women. A majority of 74% of those questioned stated they believe discrimination between men and women exists, specifically when it comes to wages and promotion opportunities.