Coronavirus
Coronavirus Fears Reach Israel's Public Transportation
The government is considering measures to curtail the use of trains, busses, and light rails, fearing infection will spread faster in large crowds
The Israeli Prime Minister's Office is considering measures to curtail the use of trains, busses, and light rails, according to a recent directive. According to the office, the main concern is that odds of infection with coronavirus (Covid-19) rise in large crowds.

The main problem with the directive, issued to all Israeli operators, is twofold: first, it is unclear who is in charge of enforcing the directive and how much traffic the various operators should aim to cut and where. Furthermore, it is unclear what compensation the operators that manage to reduce their user base will receive.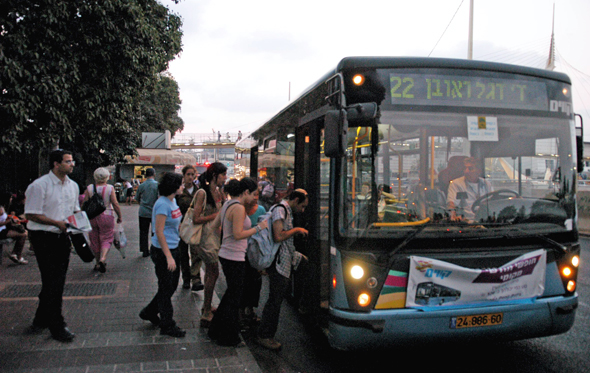 Public transportation, Israel. Photo: Yuval Chen

Approached for comment Thursday, the Prime Minister's Office said that following a meeting, it was agreed that the office will partner with the Israeli Ministry of Transport, National Infrastructure, and Road Safety to consider different scenarios with the aim of reducing infection odds for public transportation, with an emphasis on trains.

Also on Thursday, the transportation workers union sent Israeli Minister of Transport Bezalel Smotrich a letter, demanding action regarding a ministry plan to provide drivers with proper protections against the thousands of passengers they come into contact with. In the letter, also addressed to the managers of Israel's various public transportation companies, the union asked that Smotrich compel these companies to provide all drivers with gloves, masks, and hand sanitizers. The train employee union sent the ministry a similar request regarding its own drivers.

On Saturday, Netanyahu announced four steps the government intends to take to reduce the impact of the coronavirus in Israel. One of the steps included the disinfection of all public transportation facilities in Israel, an action Netanyahu said could make use of teenagers if an extended vacation is announced. "This virus is vulnerable to bleach and we need to take organized action and disinfect train stations, bus stations, etc.," he said. "For this purpose, I will recruit during vacation—perhaps there will be extended vacation—teenagers from school and youth movements, in a very orderly way." He might also utilize the military, he said.

Netanyahu further stated that "you need to understand the pandemic does not hurt children or teenagers, thank God. There is not one case we know about." Israel does have at least one known infected teenager, a ninth-grade student who caught the virus from his employer and entered home-quarantine last week.

Israel has already enacted some harsh measures to slow the spread of coronavirus infection in the country. Citizens of China, Macau, Hong Kong, Singapore, Thailand, South Korea, Japan, Italy, France, Germany, Spain, Switzerland, and Austria have been barred from entering the country, and Israelis returning from any of these countries have been ordered into a 14-day home-quarantine, the suspected incubation period of the virus. Gatherings of over 5,000 people have been forbidden as well as international conferences of any size.

If the government decides to enforce limitations on public transportation, the decision could have several consequences. According to the Israeli parliament's research division, at the end of 2019, 16 bus operators were active in Israel, making some 2 million rides daily in around 9,700 vehicles. Around half of all rides were by paying customers, and the rest were subsidized by the state, for example for soldiers.

Lessened availability of public transportation will make the already crowded trains—especially on Sundays and Thursdays when soldiers commute to and from their bases—even worse. Many people who rely on public transportation to get to work or to attend to errands will run into difficulties. As Israel has a relatively low number of private vehicles per capita—approximately 350 cars for every 1,000 people, half the average number compared to most European countries—limiting public transportation will doubly hurt the local economy.

For one thing, many people will have no way of getting to work and not everyone can work from home. For another, without public transportation, many people will turn to their private cars, making Israel's already congested roads even more packed. As in all things, the lower deciles will suffer disproportionately, being the ones who rely most on public transport.

It is still unclear what measures the government will take to restrict public transportation if it so decides. For the trains, though it is difficult to do and will carry financial ramifications, the number of passengers on each train could potentially be controlled, as was done when the Ben Gurion Airport-Jerusalem route was first piloted. For buses, such measures will be much more complex, as it will be up to the drivers themselves to limit the number of passengers—an action that could incite anger and even violence from those prevented from boarding. Senior executives in the industry, speaking with Calcalist on condition of anonymity, told Calcalist it would be easier to enact a 14-day curfew over the entire country than control the number of passengers on each ride.