Coronavirus
From the Toy Store to the Soccer Game, How Coronavirus Spread in Israel
A shop owner who returned from Italy and went to work for three days has been connected to infections that have already shut down a school and sent 77 soccer spectators into quarantine
The number of Israelis identified as being infected with the novel coronavirus, COVID-19, has risen to 15, with three new cases announced Wednesday by the Israeli Ministry of Health. Of those infected, 10 were either aboard the virus-stricken Diamond Princess cruise ship or recently returned from Italy. The remaining five were infected within Israel. Two of the 15 have already recovered, but the potential for new cases is already increasing as the going ons of the newly infected are traced.

Two of the new cases can be connected to one of the first confirmed cases among Israelis who returned from Italy, a man from central Israel-based community settlement Irus who owns a toy shop called the Red Pirate in central town Or Yehuda. The shop owner returned from Italy on February 23, and spent three days at his shop interacting with customers and employees, before all those returning from Italy were ordered into self-quarantine on February 27th. All those who frequented the shop—unusually busy as people prepared for Purim, a Jewish holiday traditionally enjoyed in costume—on those three days were ordered into quarantine as well. Among the infected are his wife, two employees, and a deputy school principal who spent 15 minutes at the shop.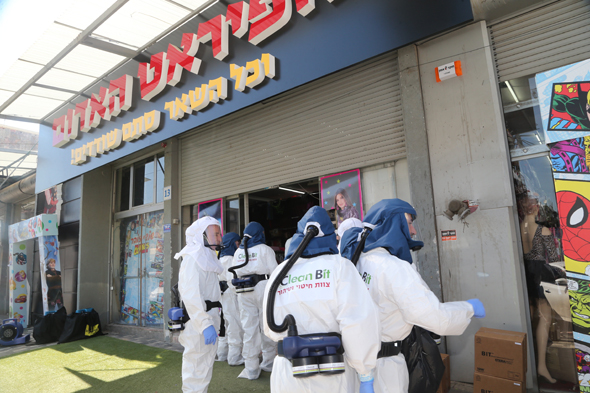 The Red Pirate shop being fumigated. Photo: Yariv Katz

One of the new cases, a ninth-grader from central Israel who works at the Red Pirate, attended a soccer game at Tel Aviv's Bloomfield Stadium last Monday. After he came down with symptoms, 77 people who attended the game and sat in nearby rows were ordered into self-quarantine on Wednesday. In addition to the game goers, his entire high-school, some 1,150 students as well as staff and drivers, have been ordered into self-quarantine. The deputy school principal also went into quarantine, as did her class, numbering 27 students.

The boy's mother told Israeli news outlet Ynet News that he was staying on a separate floor at the house, and that they were leaving him food. He has a cold and a bit of a cough, but no fever, Ynet further quoted.

Following the health ministry's Wednesday announcement regarding the game, the call center of Israel's national emergency service Magen David Adom temporarily collapsed, as did the ministry's call center.

In an effort to stem the spread of coronavirus in Israel, the country has forbidden the citizens of China, Macau, Hong Kong, Singapore, Thailand, South Korea, Japan, and Italy from entering the country. All Israelis returning from these countries must enter a two-week quarantine. Flights have been cut down as a result and Israel's national carrier El Al started letting people go due to losses. On Wednesday, the Ashkenazi Chief Rabbi of Israel, David Lau, recommended people avoid kissing mezuzahs as long as coronavirus is rampant.

On Wednesday afternoon, Prime Minister Benjamin Netanyahu and health minister Yaakov Litzman convened a joint press conference and extended the restrictions to France, Germany, Spain, Switzerland, and Austria. Litzman also announced restrictions on gatherings of over 5,000 people.