Coronavirus
As Number of Corona Cases Jumps to 39, Israel Considers Closing all Borders
Prime Minister Benjamin Netanyahu held a press conference Sunday evening, stating a decision regarding the complete closure of Israel's borders will be made Monday
UPDATE: Israel Closes all Borders For Fear of Coronavirus (Read more)

The number of identified coronavirus (Covid-19) in Israel has jumped to 39 between Sunday and Monday morning, as 14 new cases have been confirmed, though three patients have already recovered to date. One of the new patients, number 29, has yet to be connected to any of the existing cases, and authorities currently do not know how he had caught the virus. The man, a 45-old employee of Israel's emergency service Magen David Adom (MADA), arrived at the hospital of his own volition and was identified with coronavirus and pneumonia there before being transferred to quarantine. According to MADA, he was not on one of the teams working with coronavirus cases or people in home-quarantine.

Patient 26 returned from Spain on March 3, according to the Israeli Ministry of Health. Patient 27, who resides in Acre, returned from Vienna on March 5. Patient number 28 is a 60-year-old Jerusalem resident who caught the virus from a French tourist. Among patients 30-39, two returned recently from Austria, one from Italy, one from Spain, and one from Belgium. The remaining four all caught the virus within Israel from confirmed cases.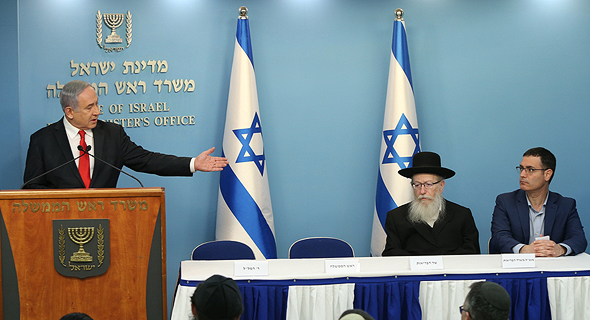 PM Benjamin Netanyahu. Photo: Amit Shabi

Prime Minister Benjamin Netanyahu held a press conference Sunday evening, stating a decision regarding the complete closure of Israel's borders will be made Monday. "The steps we have taken have proved themselves and we can see it in the numbers," he said. "If we take any more steps concerning seclusion, it will be for all countries, because there is no longer a reason to differentiate between countries." The government was initially expected to make a decision regarding a ban on the U.S. Sunday.

Currently, citizens from China, Macau, Hong Kong, Singapore, Thailand, South Korea, Japan, Italy, France, Germany, Spain, Switzerland, Austria, and Egypt are forbidden to enter Israel, and Israelis returning from these destinations are ordered into a two-week home-quarantine.

The government has also started enacting some safety measures concerning public transportation. After a Thursday directive by the Ministry of Transport hinted at the possibility of action to limit the use of public transportation, out of worry the infection will spread faster in crowded busses or trains, the ministry issued some new rules Sunday. In intra-city buses, passengers will be forbidden from seating in the row directly behind the driver, and access will be barred with barrier tape. In intercity buses, passengers will no longer be allowed to stand during the ride, meaning the number of people on each bus will be reduced.

Currently, public transportation is set to continue operating as usual, but the ministry is already preparing for the possibility of manpower shortages. All operators have therefore been asked to provide the ministry with two plans, one for a scenario where 10% of drivers will be unavailable, and one where 25% will be out.

Lior Gutman and Adrian Filut contributed reporting.