Opinion
Israeli Tech Is Uniquely Positioned to Survive the Covid-19 Crisis
The fact that most of its products are virtual could help the Israeli tech industry get back on its feet more quickly following the global pandemic
Whether the coronavirus (Covid-19) pandemic will stay with us for a few more months or for a longer period, we can already say with a fair amount of certainty that its ramifications are far greater and are creating changes that were impossible to predict just several weeks ago.

Like other industries in Israel and around the world, the local tech industry has taken a hit in the past few weeks. The latest in a series of blows to the world's economy was U.S. President Donald Trump's Saturday decision to ban tourists and European businesspeople from entering the country. Even before that, however, the Israeli tech industry already found itself insulated. With the cancelation of conferences and exhibitions that are vital to the tech industry's networking and exposure efforts and the travel limitations, the industry considered to be Israel's economic engine has been hit hard.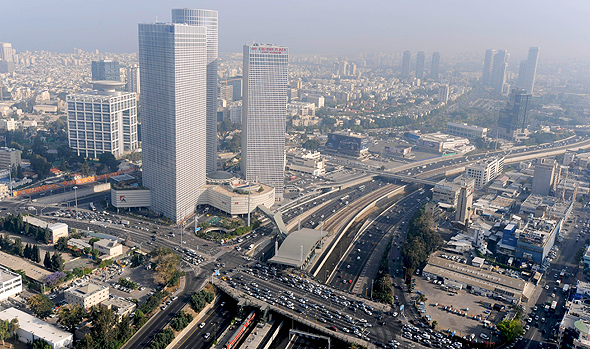 Tel Aviv's skyline. Photo: Bloomberg

Being cut off from the world, even temporarily, holds entrepreneurs back from raising funding for their startups, prevents growth-stage companies from growing their global marketing teams, and creates a physical rift between multinationals and their many research and development centers in Israel. Now, when it seems every continent has distanced itself from the others, Israel has become its own island—disconnected and isolated from the entire world.

Last week, Sequoia Capital, one of the world's leading venture capital firms, alerted entrepreneurs that the coronavirus could potentially slow down the global economy for a prolonged period of time, significantly changing the business environment. In a post, Sequoia advised companies to consider cutting back on expenses, updating their forecasts, and reserving cash. Sequoia also mentioned that many companies have already experienced significant slowdowns in growth between December and February, and that some are at risk of missing their first-quarter goals. It could take several quarters for the pandemic to be contained, Sequoia wrote, estimating it will take even longer for the global economy to recuperate.

However, compared to other sectors heavily affected by the global spread of the virus, the Israeli tech sector actually has a better starting point. The fact that most of its products are virtual, which has also contributed to bringing the Israeli tech industry to its current thriving self, could help it get back on its feet more quickly following this crisis. Additionally, unlike the dot-com crisis of two decades ago, the coronavirus crisis meets most Israeli companies at a good place business-wise, with stable business models, real market needs, and paying customers around the world.

While it is true that the health crisis is building up a severe financial crisis around it and that the business shrinkage will affect almost every sector, from tourism to industrial production, the need for Israeli technologies will not go away. If anything, the self-confinement of every country in the world only emphasizes the importance of Israeli tech entrepreneurship, which allows companies, institutions, and private individuals to continue their work and day-to-day lives in the midst of the crisis. Cyber, automotive, artificial intelligence, fintech, digital health, foodtech, and industry 4.0 technologies will all become even more vital if the world is headed to a long period of isolation.

Even if, theoretically speaking, the health threat of the coronavirus will pass completely within the next month, the consequences of the financial crisis it created will be with us for at least two more quarters. The Israeli tech industry will undoubtedly suffer from some of these ramifications and will need to downsize, reorganize, and come up with creative solutions, but the stern foundations it has built mostly over the past decade will help most companies escape almost unscathed from this perilous situation and let many others use the situation for their advantage, using the creative thinking that has made Israeli tech so unique.