Coronavirus
Israel Now Has 304 Covid-19 Cases
While Israel has not yet gone into complete lockdown, most of the country's economic activity has now been halted
Israel's number of confirmed coronavirus (Covid-19) cases has reached 304, the country's Ministry of Health announced Tuesday morning. Of the patients, four have recovered to date, leaving the number of active cases at 300, four of which are in critical condition.

On Monday night, Prime Minister Benjamin Netanyahu announced new guidelines for the battle against the spread of the virus. He emphasized that the country is not going into complete lockdown, but rather that certain areas might be subject to a local lockdown should the situation necessitate it. The public sector is now following emergency protocols, meaning many public sector workers have been told to stay home and use up their accumulated vacation days, but essential services such as health clinics, pharmacies, supermarkets, and banks will remain open in full capacity. Public transportation remains operational but has been reduced following school closures and a growing public reluctance to use trains and buses. As of Tuesday, use of cash on public transportation is banned and only use of the chargeable bus pass Rav Kav is allowed.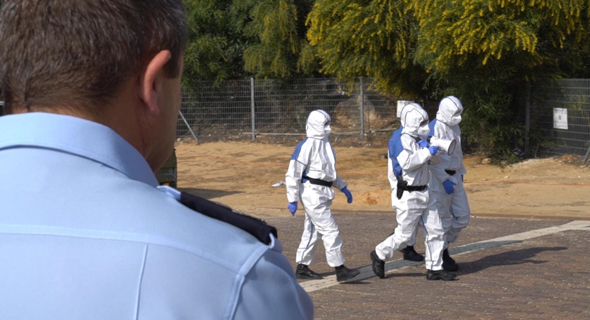 Special coronavirus taskforce. Photo: Israel Police spokesperson unit

As for the private sector, employers have been ordered to cut down the presence of people at the workplace by 70%, and instead encourage employees to work from home or in shifts. Businesses who employ 10 people or less are not required to do so, as long as they maintain a 2-meter distance between employees. The government has taken several steps to alleviate the financial pressure on self-employed people, postponing payments of bills and announcing an NIS 6,000 (approximately $1,580) grant for small businesses, as well as instructing banks to not limit accounts that run into liquidity problems. For the many people who had been laid off or put on leave due to the economic shutdown in Israel, the government will offer improved unemployment benefits.

Major General Tamir Yadai, the head of the Israeli Home Front Command, announced Monday that the military is set to open two "Corona Hotels," group recuperation facilities for non-severe coronavirus cases announced earlier this week by Minister of Defense Naftali Bennett. Both the facilities are located in Tel Aviv, within converted hotels by luxury chain Dan Hotels Ltd., each with 500 rooms capable of housing two patients. The defense ministry is currently negotiating the establishment of two additional such facilities, one in northern city Haifa and one in the country's south, Yadai said.

The Israeli police established a task force that combines policemen and border patrol police troops to enforce quarantine laws. Among the tasks it is expected to face are handling people breaking quarantine rules, but also evacuating the sick to hospitals, distributing food and medicine to people in need, and preventing looting. On the night between Monday and Tuesday, the government signed off on emergency regulations that will enable the monitoring of citizens without a warrant, using their mobile phones, in an effort to track carriers of the virus.