Coronavirus
Israel's Finance Ministry Now Estimates Coronavirus Will Cut Annual Growth to 0%
The ministry's chief economist, Shira Greenberg, has estimated the current losses caused by the emergency measures enacted to slow the spread of Covid-19 at NIS 45 billion (approximately $11.87 billion)
Shira Greenberg, the chief economist of the Israeli Ministry of Finance, has estimated that the new coronavirus (Covid-19) containment measures announced Monday evening will cut Israel's growth for 2020 to 0% and cause a 1.6%—or NIS 25 billion (approximately $6.59 billion)—drop in the country's gross domestic product (GDP). Greenberg has also estimated that the steps taken up until last weekend, combined with the general impact of the global slowdown on the domestic economy, will cost Israel NIS 20 billion (approximately $5.27 billion), or 1.4% of GDP, throughout 2020. Overall, she is estimating damages of NIS 45 billion (approximately $11.87 billion) so far.

According to the amended restrictions, the public sector is now following emergency protocols, meaning only essential services will remain open in full capacity, while many public sector employees have been sent home and are expected to use up their accumulated vacation days. Private employers have been instructed to cut down 70% of office occupancies, whether by enforcing shift work or enabling people to work from home. Finance Minister Moshe Kahlon announced an NIS 6,000 (approximately $1,580) grant for small businesses, and an overall infusion of NIS 5 billion (approximately $1.3 billion) to the domestic economy.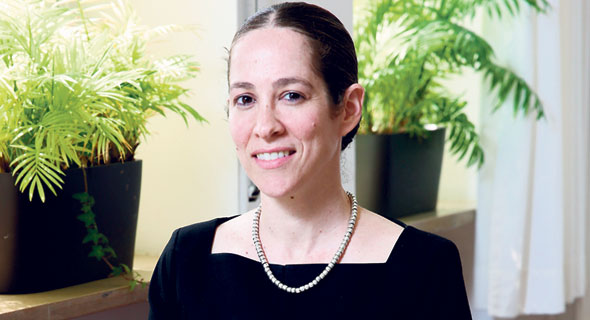 Shira Greenberg. Photo: Alex Kolomvisky
Greenberg has estimated that 2020's growth will be impacted by 3% if the current restrictions are maintained for five weeks. As Israel's growth forecast previously stood at 3%, that means 0% growth for 2020 and a 1.2% drop in state income. The finance ministry, however, has stressed that much uncertainty surrounds the virus, and its eventual impact on the global and domestic economy. The ministry is also estimating that the changes made to the unemployment benefits regulation—shortening the required time of prior employment from 12 months to six—and the increase in the number of unemployed will cost NIS 4 billion (approximately $1.05 billion).