Coronavirus
As Number of Covid-19 Cases Increases, Mossad Brings 100,000 Testing Kits to Israel
Israel has recently increased the number of tests being done daily from several hundreds to over 2,000
The number of confirmed coronavirus (Covid-19) cases in Israel currently stands at 529, according to data provided by the Israeli Ministry of Health Thursday morning. The number of serious or critical cases rose to six; 13 are in moderate condition; 498 are only showing mild symptoms; and 12 people have recovered to date.

As Israel ramps up its testing efforts, security agency Mossad ran an operation to bring 100,000 testing kits to Israel Wednesday. The health ministry's deputy director-general, Itamar Groto, told the press Wednesday that Israel has no shortage of the kits themselves, but rather of the swabs used to collect samples, which were not among the components brought by Mossad.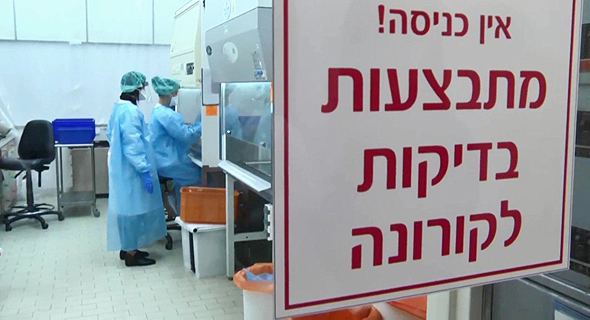 Coronavirus checkup. Photo: Amit Huber

Israel is not necessarily seeing a proportional growth in cases but rather the result of an increase in the number of tests being done, Sigal Sadetzki, head of public health at the ministry, said in a press briefing Wednesday. Israel has recently increased the number of tests being done daily from several hundreds to over 2,000. The idea is not to diagnose every single patient, Sadetzki said, but rather to understand the virus' behavior pattern in Israel so the ministry can choose which of its pre-prepared scenarios to follow.

The worst-case scenario, according to previous statements by Moshe Bar-Siman-Tov, director-general of the health ministry, is thousands of deaths in Israel. While Israel has recorded no coronavirus-related deaths so far, its luck in this matter will likely not last. A closer look at the data published by the World Health Organization shows that, with the exception of China, the first mortalities in countries started appearing 22-42 days after the first infection cases were discovered, though the mortality curve is much steeper in Europe than in other Asian countries.

Other than the Israelis who returned from the Diamond Princess cruise ship, the first case in Israel was confirmed on February 27, in a man who returned from Italy four days prior. He infected four other people, including his wife and two of his employees.

In addition to enforcing a partial lockdown in Israel, as of Wednesday, all foreign nationals are completely barred from entering Israel, according to the Population and Migration Authority. While Israel has previously barred the entrance of citizens of some countries where the virus was discovered, it later changed its regulation to allow the entrance of foreign nationals from all countries, as long as they could prove they could enter a 14-day self-quarantine once in the country

Doron Broitman contributed reporting.