Coronavirus
Israel Reports 945 Covid-19 Cases, First Coronavirus Death
The country saw its first death on Friday, an 88-year-old man with pre-existing conditions. As the number of coronavirus cases in the country increase, so does unemployment
Israel saw its first coronavirus (Covid-19) related death on Friday, an 88-year-old man with pre-existing health conditions. The number of Israel's confirmed coronavirus cases rose to 945 on Sunday morning, according to the country's Ministry of Health, an increase of 62 cases since Saturday. Of all cases, 20 are considered in serious or critical condition, 863 have only mild symptoms, and 37 have recovered.

It should be noted that the climb in new cases is rather stable, considering Israel has upped the number of tests being done in recent days from several hundred a day to over 2,000. According to the data, the vast majority of cases identified to date are people over 60 with pre-existing conditions. According to the health ministry's mathematical model, 32.5% of the deaths predicted will be of people over 80%, 30.3% of people in the 70-79 age group, and 24.1% people aged 60-69. Mortality for the 10-19 age group is expected to reach 0.1%, while the 20-29 age group will see a mortality rate of 0.7%.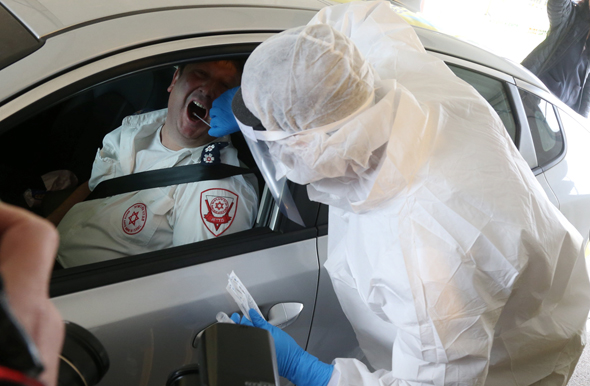 Coronavirus checkup in Tel Aviv. Photo: Shaul Golan

Several Israeli ministers are currently in self-quarantine after being exposed to carriers, including Minister of Transport Betzalel Smotrich, Minister of Interior Aryeh Deri, and Minister of Agriculture Tzachi Hanegbi.

As the number of cases in Israel continues to rise, so does its number of unemployed, as more and more businesses collapse under the country's tightening restrictions. As of Saturday night, the number of people who have registered with the country's employment service reached 503,915 people, a 28,000 increase since Friday, 91% of them as a result of being placed on unpaid leave. Meanwhile, the Israeli Ministry of Finance announced it would demand a pay cut for all public employees—who, barring essential workers, have been forced to take vacation days as of Sunday—if things do not improve after Passover. Labor party leader Amir Peretz announced he will donate 10% of his salary—parliament members earn NIS 45,000 (approximately $12,500) per month—to help address the crisis, and called on other public officials to follow suit.

On Sunday at 8 a.m., the emergency restrictions set up by Israel's interim government on the night between Thursday and Friday came into force. They will be in effect for seven days. Intended to help curtail the spread of the virus, the regulation stipulates places who sell food will remain open, barring markets. While malls are still forbidden, the new regulations state street shops of any kind, including fashion, toys, and optics, can open, as long as operators keep the anti-crowding laws—which mandate no more than four customers for every working till, and a 2-meter gap between each person. Deliveries of all kinds are allowed, as long as packages are placed outside the door. No more than two people are allowed in private vehicles.

The Israeli parliament and its members are exempt from the aforementioned regulations, such as those about the number of people in one building or in vehicles.

Adrian Filut, Omri Milman, and Orna Yefet contributed reporting.