Coronavirus
Israeli Health Ministry Launches Voluntary Covid-19 Tracking App
The app uses the phones' location history and cross-references it with data from the epidemiological investigations of existing cases to determine if close contact was made
On Sunday evening, Israel's Ministry of Health launched a location-based mobile app that lets users know if they have been in close proximity to verified coronavirus (Covid-19) patients. Called HaMagen, Hebrew for The Shield, the app uses the phones' location history over the past 14 days and cross-references it with data from the epidemiological investigations of existing cases to determine if close contact was made.

Use of the app is voluntary and anonymous, letting users decide whether to report exposure to the health ministry, without transmitting the data to any third parties.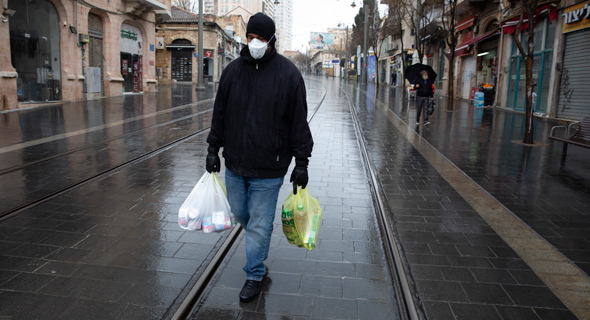 A man walking with groceries in an empty street in Jerusalem. Photo: Amit Shabi

Earlier on Sunday, Calcaist reported the ministry has chosen Tel Aviv-based startup GlobeKeeper Tech Ltd. to develop its app and has filed for an exemption from tender requirements from the Government Procurement Administration.