Coronavirus
Israeli Ministry of Health Partners With GlobeKeeper for Voluntary Civilian Monitoring App
On Thursday, Israel's Supreme Court ruled against emergency regulations letting the police and Shin Bet obtain information on coronavirus patients without a warrant
Israel's Ministry of Health intends to launch a voluntary surveillance app for monitoring coronavirus (Covid-19) cases early this week, according to one person who spoke to Calcalist on condition of anonymity.

On Thursday, the ministry applied with the Government Procurement Administration for an exemption from a tender requirement regarding a contract with Tel Aviv-based startup GlobeKeeper Tech Ltd. to develop a mobile app to help slow down the spread of the virus. In its request the ministry stated the current reality urgently "requires tools for managing and monitoring coronavirus patients."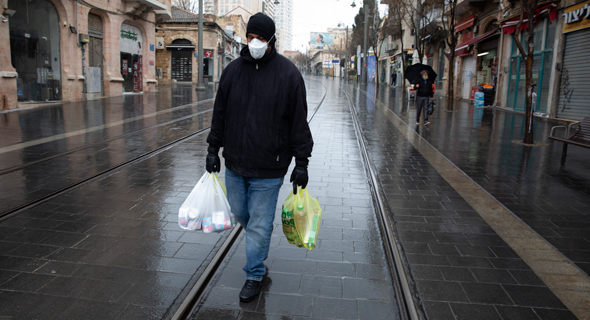 A man walking with groceries in an empty street in Jerusalem. Photo: Amit Shabi

Founded in 2016, GlobeKeeper develops military-grade tactical and strategic operation systems, utilizing the existing capabilities of mobile devices, including GPS location services, Bluetooth connectivity, and built-in cameras. The company has raised $2.45 million to date, according to Pitchbook data, and its main backer is Tel Aviv University's venture arm, TAU Ventures.

The new app, which is meant to be voluntarily installed by civilians, will use the phone's location data to let users know if they were in close contact with a confirmed coronavirus patient, the person familiar with the matter said. The app will run anonymously without transmitting the locations it detects to any third parties, letting users decide whether to report their exposure to the health ministry, they said.

In a joint ruling on three separate petitions submitted last week—one by lawyer Shachar Ben Meir, one by the Association for Civil Rights in Israel, and one by nonprofit Adalah–the Legal Center for Arab Minority Rights in Israel and the Joint List, a coalition of Israel's four Arab-led political parties—the Supreme Court ordered the new regulations need to be overseen and approved by Knesset subcommittees to be formed no later than Tuesday, March 24, at noon, or else they will be nulled. The court also decided to immediately freeze the new authority given to the police, which it said has yet to be implemented.