Expert
In These Trying Times, Piracy Can Be Used for Good
One silver lining in the dark cloud named Covid-19: people are harnessing the power of 3D printing to manufacture well needed, often expensive and hard-to-find, medical supplies
Earlier this week, the U.S. Supreme Court ruled on a copyright case relating to the sunken flagship of notorious pirate Blackbeard, The Queen Anne's Revenge. The court ruled in favor of North Carolina, off the shores of which the ship sunk, allowing it to use material documenting its salvation without the photographer's permission. Blackbeard, by the way, was killed in action, and legend has it his skull was lined in silver and used as a bowl.
And by now, many may have heard of another silver lining, also having to do with intellectual property, but this time in regard to the coronavirus (Covid-19) pandemic. Suffering under the increasing burden of life-threatening cases and running low on vital medical supplies, a small band of intrepid medical professionals and engineers in Brescia in northern Italy created a printable version of an expensive and hard to find valve for life-saving ventilators. The printed item reportedly costs 10,000 times less than the valve's retail price.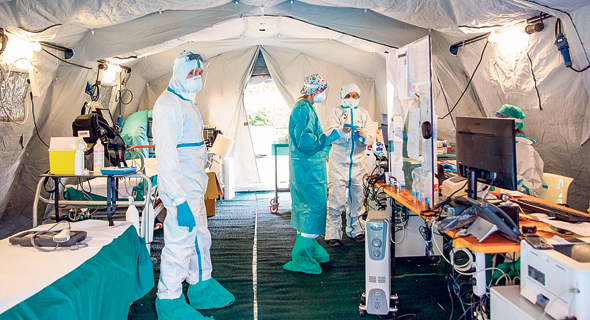 A healthcare unit for corona patients in Italy. Photo: Bloomberg
Similarly, a couple in New York began printing face shields for medical personnel, at around $8 apiece, using 3D printers they had in their basement.
But, there is also a dark cloud lurking over this silver lining. The manufacturer of the valves, U.K.-based company Intersurgical Ltd., reportedly refused to help the 3D printers in developing the replacement valve and even threatened to sue them for patent infringement. The company later denied the allegations.
In another case of denial, earlier this month, Fortress Investment Group LLC, owned by Japan's SoftBank Group, filed, through its subsidiary Labrador Diagnostics LLC, a lawsuit in Delaware against Biofire Diagnostics LLC, a biotech startup that was developing a coronavirus diagnostic test and its parent company Biomerieux SA. The plaintiff's case was based on third-party patents it purchased from Theranos, a San Francisco Bay Area blood-testing company that infamously defrauded the U.S. government and its own investors.
In response to the immediate press backlash, Fortress backtracked and withdrew the suit, claiming it was unaware that BioFire, was working on a Covid-19 test and that the suit was related to prior work done by the defendant. To further improve its now tarnished image, Fortress even offered BioFire a royalty-free license to continue using the putatively infringing technology.
Ironically, Biomerieux just lost a patent infringement lawsuit that it had brought against another company that was supposedly using its patented technology to create an HIV detection kit. Highlighting the chasm between how we treat different pandemics, no one seemed to be upset about this particular case being filed.
It is not just devices and diagnostic patents that are being infringed upon during these uncertain times. In China, a local pharmaceutical manufacturer, BrightGene Bio-Medical Technology Co. Ltd. supposedly successfully copied one of the most promising Covid-19 drugs to date, Gilead Sciences Inc.'s remdesivir, an experimental antiviral compound that is thought to be effective in treating other coronaviruses, such as SARS and MERS, as well as Ebola. Clinical trials for Covid-19 have just begun.
While the Chinese company claims it will request permission from Gilead before marketing the drug, it has already taken the unprecedented step of mass-producing it. Gilead, itself has not yet marketed the experimental drug, nor has the drug been approved for any indication anywhere in the world. Up until now, it has only been used for what is legally termed compassionate use.
For decades, in various jurisdictions worldwide, patient groups have successfully lobbied regulators to allow for expanded access or compassionate use of drugs that are still in the development stage, under certain preconditions. Under current U.S. laws, however, pharmaceutical companies cannot be compelled to provide these drugs and it must be done voluntarily. In the European Union, compassionate use was legislated in 2004.
More recently, the U.S. passed Right to Try legislation which provides an additional alternative pathway to access experimental drugs outside of the clinical trial framework. In contrast to the expanded access pathway, which requires the U.S. Food and Drug Administration (FDA) to sign off on each patient, Right to Try access, does not even require the ethical approval of an institutional review board (IRB).
A similar EU law, Art. 1 of Directive 2004/27/EC, allows for an individual patient, under the observation of a healthcare professional, to use a drug that is in the early phase of development. Article 1 also allows for the temporary use of a non-approved drug in cases such as novel pathogenetic agents.
While laws in the U.S. Europe, and Israel provide desperate patients with potential Hail Marys for their disease, they can create excessive administrative burdens for drug companies intent on developing medicine for the general population. These incumbrances include developing an allocation methodology to fairly allow third parties access to the drug, with potentially thousands of patients requesting such access.
Perhaps highlighting these difficulties, Gilead, just one day after the FDA announced remdesivir would be available through the compassionate use pathway, announced it will stop accepting applications for compassionate use, given the overwhelming demand. At the same time the drug, which was developed using tens of millions of U.S. taxpayer dollars, was granted a lucrative orphan drug designation. Given the PR backlash, Gilead, like the other drug companies mentioned above, quickly requested the designation be rescinded, but has yet to reopen compassionate access. With the compassionate access path closed off, Gilead suggested that those who need it look to enrolling in clinical trials for the drug.
Compassionate use is also costly for pharmaceutical companies to comply with, as, given the dire nature of compassionate use requests, they are typically loath to recoup their extensive outlays of providing the drug or of including these patients in their trials, and thereby incur significant loses.
Compassionate uses might also confound clinical trials, as it is not yet clear how, or even whether, results from compassionate use or from Right to Try access can be legitimately included in the research data for the drug. Also, patients provided with such access might not benefit from important follow-up communication regarding the drug, its efficacy, and its side effects, information trial participants rely on in their recovery.
Much of the rules and regulations regarding the new Right to Try system have yet to be put to a test. The first drug used under the new pathway, a cancer vaccine, was only provided to the first non-trial patient a little over a year ago and the patient died soon thereafter. Some commentators fear that these drugs, which have not been thoroughly tested, will have little to no effect, and could potentially even worsen a patient's condition. Additionally, news of compassionate use can also build up unwarranted hope in other desperate sufferers whose ear catches unvetted anecdotal information about its putative efficacy.
Prior to that initial Right to Try patient, an Israel-linked biotech company, BrainStorm Cell Therapeutics Ltd., decided in 2018 not to offer its experimental drug for amyotrophic lateral sclerosis (ALS), also known as Lou Gehrig's Disease, under the Right To Try rules, due to ethical, legal, and practical hurdles in providing the drug outside of the clinical trial context.
Keeping in mind that Right to Try laws relate to drugs in the early phases of clinical trials, and that the vast majority of drugs at this juncture never hit the shelves after failing the demanding and daunting regulatory gauntlet of multiple tests, there are non-trivial social and ethical considerations in requesting and providing them to patients.
Healthcare providers who request these drugs for their patients will need to carefully and objectively reflect on their moral obligations to heal and to do no harm, as spelled out in the Helsinki Declaration —a non-binding instrument outlining ethical principles relating to research on human subjects given the many unknown variables regarding these early phase drugs. The last paragraph of the Helsinki Declaration does, however, allow for the use of untested therapies in times of great need.
Some of the abovementioned ethical concerns also relate to proper informed consent in light of unknown risks and benefits associated with the use of an as-of-yet unauthorized drug. The legitimacy of the informed consent is further suspect when considering the likely state of desperation the patient is in.
The use of these alternative access pathways might also undermine the slow-but-tested reliable standard drug approval process. Notably, unlike official drug trials, the Right to Try and compassionate use laws do not typically follow standard inclusion and exclusion guidelines, nor do they incorporate rules to limit the biases of healthcare providers and regulators in deciding who can and cannot gain access to the drug. There are serious concerns regarding the ability to fairly distribute a limited supply of a drug that has yet to go into full production.
The Right to Try is not the only way to access limited drugs in times of necessity. Most nations have compulsory licensing laws under which they grant themselves the right to willfully infringe their own government-granted patent on a drug. Still, most governments are loath to use these provisions because of potential threats from the U.S. Trade Representative (USTR), the government office that recommends, conducts and coordinates U.S. trade policies.
Back to Covid-19, Israel recently used the threat of its compulsory license law to get pharmaceutical company AbbVie Inc. to allow an infringing generic version of its anti-viral drug Kaletra to be imported to Israel. The threat came as the drug, still protected by patents in Israel but not in India, could not be provided in sufficient quantities to fill the projected need during the pandemic. AbbVie caved and will not enforce its patent rights on Kaletra worldwide as long as it is used as an antiviral for SARS-CoV-2, the scientific name of the disease caused by the coronavirus.
Other industries are also facing infringements of intellectual property rights during these trying times. Last week, pirate media streaming website Popcorn Time resurfaced to help many of those that are home-bound, pass the time with infringing content. Notably, the 2011 pandemic thriller Contagion has become a favorite of many copyright-infringing pirates that are currently unable to leave their homes due to the pandemic.
As many places around the world are currently facing partial or complete lockdowns, perhaps our time at home could be better spent not pirating movies, but rather pirating medical supplies, like the above-mentioned ventilator valve, through 3D Printing. In fact, residents at the Massachusetts General Hospital recently announced a global online hackathon to come up with new ideas employing 3D printing to deal with the equipment shortages plaguing the world's overburdened healthcare systems.
Dov Greenbaum is a director at the Zvi Meitar Institute for Legal Implications of Emerging Technologies, at Israeli academic institute IDC Herzliya.