Update: Genealogy Company MyHeritage Hiring 150 Employees to Rapidly Set Up Coronavirus Testing Lab in Israel
The lab, expected to begin operating by April 9, will be able to conduct up to 20,000 tests per day
Update Sunday 5:30 p.m.: Genealogy company MyHeritage Ltd., is recruiting 150 employees for its expedited coronavirus (Covid-19) testing lab in Israel, the company announced Sunday. MyHeritage has partnered with genome sequencing company Beijing Genomics Institute (BGI) to set up the lab. BGI had previously set up similar labs in the Chinese cities of Wuhan and Shenzhen.

The lab, expected to begin operations by April 9, will be able to conduct 10,000 tests per day, but expects to scale up to 20,000 per day. Within two weeks, Israel is expected to conduct 30,000 tests a day, including the ones done at MyHeritage's lab, Israel's Ministry of Health announced Friday.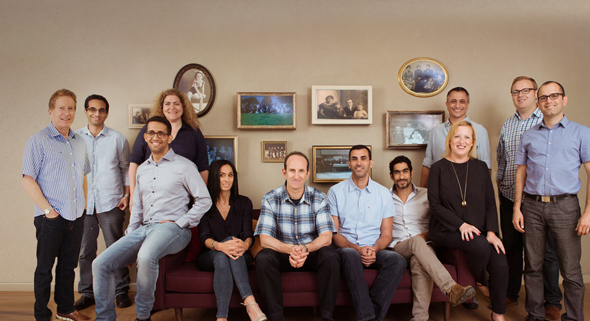 MyHeritage's executive team. Photo: MyHeritage

The lab will be privately owned by MyHeritage and BGI, without the involvement of the Chinese government, MyHeritage CEO and founder Gilad Japhet said in an interview with Calcalist. The lab will be sent dozens of quantitative polymerase chain reaction (qPCR) machines to test for the virus, and will test viral RNA only, Japhet said. The machines will not extract any human DNA and the lab will not be linked to MyHeritage's consumer services, he said.

For the lab, MyHeritage is donating the money for the lab, and BGI is supplying their technology, equipment, and personnel, he added. MyHeritage pledges to donate any lab profits to Israeli hospitals to purchase respirators and other emergency equipment as the lab is a non-profit venture for the company, Japhet added.

Last week, MyHeritage announced it is donating 66,000 swabs to boost Israel's coronavirus testing efforts.

Founded in 2003 and headquartered in central Israel, MyHeritage lets users create family trees by searching through historical documents such as census, immigration, marriage, and burial records. The company launched a genetic testing service that provides both DNA matching and ancestry and ethnicity estimates in 2016.

BGI was founded in 1999 and currently employs a team of 6,000 people.